13 September 2007 Edition
Grave concern over arrest of Zimbabwean family in Belfast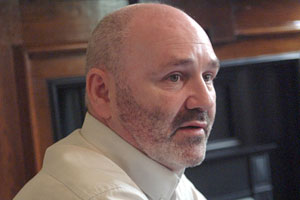 Sinn Féin MLA Alex Maskey has expressed his outrage at the arrest of a Zimbabwean family in Belfast by the Immigration authorities and said Sinn Féin will do its utmost to free the family and allow them to remain in Ireland.
"Immigration authorities have acted prematurely as this case was already going through the courts. This snatch squad tactic is wrong", Maskey said.
"The case of Upenyu Hove and his young family who were detained this morning and moved to Dublin is a scandal. Mr Hove's life is in certain danger if the Home Office take the draconian measure of returning him and his family to Zimbabwe. The record of human rights abuses in Zimbabwe speaks for itself.
"Mr Hove's daughter was born in Ireland and they have lived in Belfast for the past five years. He and his family have played a positive role in Ireland and are welcome additions to our society.
"The point of the matter is that Mr Hove has not committed any crime. Sinn Féin is wholly committed to the rights for all our people including those who have sought refuge with us. Upengu and his young family should now be allowed to live in peace" he said.