13 September 2007 Edition
Adams condemns West Belfast murder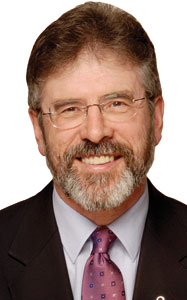 Sinn Féin West Belfast MP Gerry Adams has described the killing of Harry Holland as "a brutal and savage murder, which has shocked the West Belfast community."
Holland was stabbed late on Tuesday night, a short distance from his home and the small vegetable shop he ran on the Glen Road.
Gerry Adams said:
"I have known Harry for many years. He was a good neighbour and friend, and a kind, generous and very well known local figure. I want to extend my sincerest condolences to his wife Pauline, his daughters, his mother Violet and his family circle."
The Sinn Féin West Belfast MP who on Wednesday morning spoke to a senior officer in the PSNI about the incident leading to Harry Holland's death has called on "anyone with any information to make it speedily available to the PSNI so that those responsible for this vicious and cruel action can be brought before the courts".