13 September 2007 Edition
Comprehensive cancer services urgently needed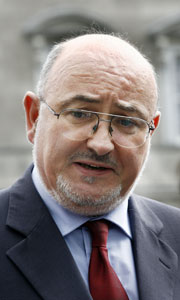 By Mícheál MacDonncha
The Fianna Fáil/PD/Green Government is attempting to shirk its responsibility for the chaotic state of cancer care services. Fall-out from the current reviews of breast screening in Barrington's Hospital in Limerick and other hospitals is being used by the Government to divert attention from its own failure to deliver comprehensive cancer care.
Sinn Féin Dáil leader and Health spokesperson Caoimhghín Ó Caoláin pointed out that the current serious concern over the quality of mammography in some hospitals highlights the overall chaotic state of cancer services. "The fall-out from these urgent reviews is being used by the Government to muddy the waters and to divert attention from its own failure to deliver comprehensive cancer care across the State," said Ó Caoláin.  
The mammography issue at Barrington's has also exposed the failure of the Government to ensure that private hospitals are properly accountable. The Health Information and Quality Authority was established in legislation in 2006 but it was empowered only to monitor services provided by the Health Service Executive. It does not have powers to hold private hospitals fully accountable. Ó Caoláin pointed this out during the Dáil debate on the Bill but the Government ploughed on regardless. Through their infamous 'co-location' scheme they are encouraging the development of more private hospitals without proper accountability.
Ó Caoláin said the Fianna Fáil-led Government has presided over "a catalogue of failures and delays in cancer care". He listed some of them:
•    Failure to fully roll out the long-promised Breastcheck service with many women now having to wait until 2009 to get their first appointment
•    Failure to deliver the long-promised radiation oncology centres in Dublin, Cork, Galway, Waterford and Limerick. Delivery has been delayed because of the Government's initial insistence on providing these services through public-private partnerships which it then found would take too long.
•    Failure to plan radiation oncology services for other regions, leading to totally inadequate provision in the northern half of the island. This is compounded by the failure to ensure full cross-border co-operation in cancer services.
• Failure to establish national screening services for cervical cancer and other cancers such as prostate cancer.
• Failure to heed the testimony of current and former patients and staff at St. Luke's Hospital in Dublin about the need to review the decision to close that centre of excellence.
Ó Caoláin concluded:
"The Fianna Fáil/PD/Green Government is attempting to shirk its responsibility for the chaotic state of cancer care services. We are hearing of plans to close cancer surgery services in some hospitals without the promised new centres of excellence being put in place. What is needed urgently is comprehensive public cancer care provided in the public healthcare system and available to all based on need alone, regardless of ability to pay and without discrimination based on geographic location. Nothing less is acceptable."