13 September 2007 Edition
Inquiry call into further Motorman killings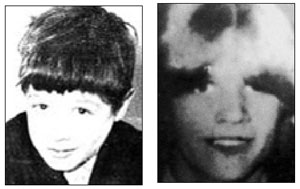 BY LAURA FRIEL
Following last week's admission by the British Army that a Derry teenager, shot dead by British soldiers during Operation Motorman in July 1972, was not "a terrorist", despite being labelled as such in British army documents, there have been calls on the British government to accept that the British army shot many people without justification. Seamus Bradley was shot dead the same night as Hegarty and was also labelled a "terrorist". Bradley's inquest found that he was unarmed.
Last week Sinn Féin MLA Martina Anderson called for an independent inquiry into the killing of Daniel Hegarty who was with two of his cousins in the Creggan area when a British soldier opened fire with a machine gun. Daniel was shot twice in the head and died at the scene. One of Daniel's cousins was seriously wounded in the same incident but survived. He was hit in the head but did not lose consciousness. He heard four shots ring out but could think of no reasons why the British soldier opened fire.
In a recent report on Operation Banner, the British Army's name for its military campaign in Ireland since over the last few decades, the unarmed teenager is labelled a "terrorist". Hegarty was one of two people shot dead by the British army during Operation Motorman, a major British army operation involving thousands of troops and hundreds of military vehicles including Centurion tanks. A British navy gunboat, HMS Fearless sailed up the Foyle estuary, ferrying soldiers and equipment by landing craft into the heart of Derry City. The operation aimed to establish military control in the Bogside and Creggan that had been no-go areas for the British army.
Daniel Hegarty's sister Margaret Brady said:
"It's wrong that we should have to fight to clear Daniel's name when the wrong was done to us in the first place, I only wish the British government would accept that the British army shot many people without justification and where they posed no threat. Seamus Bradley was shot dead the same night and his inquest found he was unarmed," said Margaret.
Sinn Féin MLA Martina Anderson said: "The British army lied about the circumstances in which Daniel Hegarty was shot dead to cover up the actions of their soldiers. Lies were also told in relation to another killing by the British army in Derry that night. They've admitted as much in the case of Daniel Hegarty but as yet have said nothing in relation to the killing of Seamus Bradley," said Martina Anderson.
Nineteen-year-old Seamus Bradley was an IRA Volunteer but he was unarmed at the time he was taken away by the British army in the early hours of July 31 1972. He was alive at the time of his capture but three hours later the British army delivered his body to a local morgue.
Seamus had been shot four times and left to bleed to death. His body was covered in extensive bruising which led to speculation that the unarmed Volunteer had either been tortured prior to his death or his body dragged behind a vehicle.