13 September 2007 Edition
Mary Lou McDonald shortlisted for MEP of the Year Award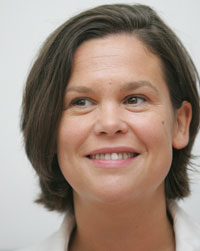 Sinn Féin Dublin MEP Mary Lou McDonald has been shortlisted for the 'MEP of the Year' awards by the European parliament magazine, a first for an Irish member of the European parliament.
The Parliament magazine is considered to be the voice of MEPs and is seen as an important means of communication between the European parliament, national governments, senior officials in the European commission and EU council of ministers.
Each year this prestigious award committee asks MEPs to vote for who they believe to be the most capable Parliamentarians. Just three MEPs are short listed for each of the ten categories following nominations by selected NGOs and Not for Profit Groups.
Despite being from one of the smaller political groupings, McDonald has been shortlisted for 'making the most valuable contribution in the field of employment policy'.
 McDonald has maintained employment rights as a focus of her work as an MEP since her election in 2004. This year she drove a report on the ILO Maritime Labour Convention through Parliament and the Employment and Social Affairs Committee.
The code was adopted in February this year following McDonald's close co-ordination with the Commission and workers' representatives.
She has also been active in progressing Sinn Féin's corporate manslaughter policy within parliament and has worked closely with community groups in a determined effort to make European institutions more accessible.
On hearing the news of her nomination Mary Lou McDonald said "I am delighted that the hard work myself and my team have taken on in the field of employment and workers' rights has been recognised. This work will continue to be of the uppermost priority for Sinn Féin in the party's parliamentary work. I also intend to continue to put pressure on the EU institutions to prioritise social inclusion."
The awards ceremony will take place at the Brussels Renaissance Hotel on Tuesday, 9 October.