13 September 2007 Edition
Gilmore invited to debate future of left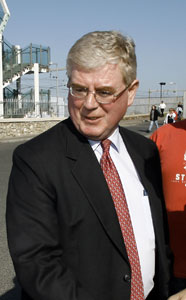 By Mícheál MacDonncha
Eamon Gilmore has succeeded Pat Rabbitte as the leader of the Labour Party without a contest and without immediate debate on the future of the party. It remains to be seen if any such debate will ensue or if Gilmore will focus solely on reorganisation after the failure of his predecessor's strategy based on the Mullingar Accord with Fine Gael.
Prior to his unsuccessful 2002 bid for the leadership Gilmore raised the prospect of co-operation on the left, including Sinn Féin. This time he ruled out such political co-operation, apparently fearful that it might be used against him by rival candidates. He need not have worried as no-one in the Labour Parliamentary Party rose to the leadership challenge.
Now Gilmore faces the prospect of rebuilding the party after its static election performance and its failure to secure sufficient seats to form a Rainbow Coalition with Fine Gael and the Greens. As has happened so often in the past, Fine Gael was the big beneficiary of the Mullingar Accord – its pre-election pact with Labour. Fine Gael has returned to the Dáil with 20 seats more than it had in 2002 while Labour has remained the same.
Gilmore has promised an independent path for the Labour Party but what exactly does that mean? Does it mean continuing as they are, hoping for the best in the next General Election and then opting for either Fine Gael or Fianna Fáil in coalition after the election? That is all it can mean unless Labour sets the much more ambitious target of forming part of a government in which neither of the two conservative parties are dominant. And that can only be done by electing more left-wing TDs, including Labour and Sinn Féin TDs.
This was reflected by Sinn Féin Dáil leader who commented on the election of Eamon Gilmore:
"I would encourage Eamon Gilmore and his Labour colleagues to engage in dialogue on the future of the left in Irish politics. There is a real challenge to all progressive people to end the total dominance of the two major conservative parties – Fianna Fáil and Fine Gael. This can only be done by providing a coherent alternative which will not only mobilise support from parties of the left such as Sinn Féin, Labour and the Greens but will convince many of the current voters of Fianna Fáil – and even of Fine Gael – that there is a better way."
As well as entering a voting exchange in the Seanad elections, Sinn Féin and Labour agreed to co-operate in terms of speaking arrangements in the Oireachtas. This arrangement remains in place and it augurs well in at least providing a basis for debate on the future direction of the broad left in Irish politics. Such a debate is sorely needed. A good place to start would be here in the columns of An Phoblacht. Watch this space.