6 September 2007 Edition
Court decision on Shell to Sea solidarity camp 'a farce' - Ferris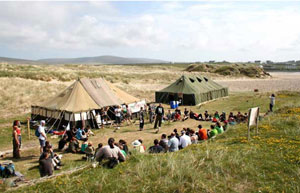 Speaking on Tuesday after a Circuit Court judge instructed environmental activists to vacate a Shell to Sea solidarity camp at Glengad in County Mayo by 1 January, Sinn Féin's Martin Ferris TD called the decision "a farce". He went on to label the local authority "highly hypocritical" after their claims that the camp is causing "irreparable damage" to the local environment while they support the highly dangerous proposed Corrib gas pipeline.
"While local authority and pro-government voices have criticised the solidarity camp for its so-called danger to the environment, it is highly hypocritical that they have not adopted the same stance as regards the proposed unprecedented and experimental high pressure pipeline that will run in dangerous proximity to people's homes", Ferris said.
"While activists in the solidarity camp have displayed extraordinary respect for the environment with their consistent recycling, use of solar energy, a wind turbine and their protection of the sand dunes, Shell and their cronies have shown the utmost contempt for the environment. The proposed upstream pipeline will carry unprocessed, odourless gas at extremely high pressures. While the pipeline is being vehemently opposed by concerned locals the solidarity camp enjoys overwhelming community support
"In addition the refinery is being constructed in the catchment area of Carrowmore Lake, which supplies water for 10,000 Erris people. There have already been reports of drinking water being contaminated by the activities of Shell and their partners.
"This government is facilitating the oil multinationals of Shell and Statoil to plunder our natural gas resources, ride roughshod over local concerns and irreparably destroy Mayo's scenic and sensitive environment. Yesterday's judgement was a farce and the local authorities' claims about the camp are highly hypocritical", the Kerry North TD said.