16 August 2007 Edition
Belfast mural honours two killed during 1907 Dockers' Strike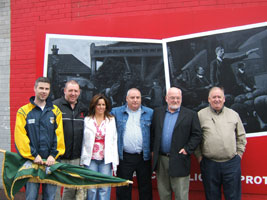 A 40 foot mural, dedicated to the memory of Charles Mullan and Margaret Lennon, who were killed when the British army charged Catholic supporters of the Belfast Dockers' Strike on the Falls Road on 11 August 1907 was unveiled last Saturday, 1 August in Belfast.
There was a wide-ranging series of speakers at the mural launch including Pauline Buchanan from ICTU, Kevin Doherty from the Belfast Trades Council, Sinn Féin's Fra McCann, Mark Langhammer from the Labour Party and Gerry Ruddy of the IRSP.
Sinn Féin MLA Fra McCann said that Jim Larkin, the trade union leader and socialist activist, who was born in Liverpool in 1876, of  Irish parents saw the 1907 Dockers' Strike as a political struggle that brought the striking Dockers and Carters into confrontation with the RIC who at a later stage also became involved in strike action.
"As Catholic and Protestant workers united it was evident that the forces of sectarianism and that of the state began to fracture. The RIC who found themselves being used to protect scabs and help break the strike, mutinied in protest at their own workload, hours and conditions.
"This led to further rioting and on 11 August, when British soldiers who were shipped in to break the strike,  shot and killed two innocent people and wounded countless more just a short distance from where we are today. Charles Mullan died in a house in Ross Street and Margaret Lennon in Peel Street. (There are some reports from that period that a third person Charles Kelly was also murdered in this incident).", McCann said.
"There was however a bitter and desolate finality to what was perhaps the most courageous and historic struggle by low paid and exploited workers in Belfast in the century. This was recognised internationally as one of the most significant collective action experienced by workers.
"The 1907 discipline of the struggle highlighted by the necessity of uniting workers still applies today. Sectarianism, discrimination, inequality and racism are some of the decaying features that separate workers and deliver them to unscrupulous and greedy employers", McCann said.
"Larkin's unity of Belfast workers is an objective that the Irish Congress of Trade Unions aspires to and it is one that Sinn Féin fully endorses.
"Finally can I express Sinn Féin's appreciation to the artists for crafting such an inspiring mural that will be admired and enjoyed, no only by everyone present today, but also by all the citizens of Belfast and beyond", he said.