16 August 2007 Edition
Paisley position on Irish language slammed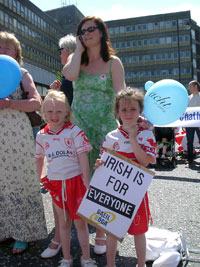 The Democratic Unionist Party is seeking to block any bid to have an Irish Language Act passed in the Six County Assembly, according to a letter signed by party leader and Six County First Minister Ian Paisley.
In the two-page letter, written to mark the first 100 days of the Stormont executive, Paisley assures party members that the DUP will oppose any legislation that would enshrine the rights of Irish language speakers.
A language act is a key demand from Irish language advocates who point out that it deserves the protection granted to other minority languages across Europe.
Earlier this year, the Council of Europe called on the British government to develop a comprehensive Irish language policy, including measures to meet the increasing demand for Irish-medium education "as a matter of priority".
The Strasbourg-based Committee of Ministers backed the findings of an 86-page report from a Council of Europe watchdog monitoring the European Charter for Regional or Minority Languages, which came into force in Britain in July 2001.
The Charter commits the British Government to safeguard and promote Welsh, Scottish Gaelic, Irish, Scots, Ulster-Scots, Cornish and Manx Gaelic.
In the North, where demands for an Irish Language Act similar to the 26 County Official Languages Act, the DUP has branded the proposal for a language act as divisive and discriminatory and "sponsored by Sinn Féin".
North Belfast Sinn Féin MLA Caral Ní Chuilin has criticised Paisley's views on Irish language legislation as being at odds with the new political arena.
"The revival of the Irish language has been a cultural success story. More and more people are using Irish. Young children in particular are being educated in increasing numbers through the medium of Irish and it is their future and their rights that must be secured through legislation", Ní Chuilin said.
"Ian Paisley, as First Minister should recognise the obligation to make provisions for those Irish speaking children and all Irish speakers in general. I urge my colleagues in the Assembly to act without delay to copper fasten and implement the agreement made at St Andrews.
"It is essential that Irish speakers are granted the following basic demands
• That rights are at the heart of the legislation
• That adequate resources be provided to implement the Act
• That the proposed commissioner shall have the power, staff and resources to oversee the Act.
 "The Irish language is not the property of one section of our people. It belongs to everyone. It threatens no one. It provides Sinn Féin and the DUP with a unique opportunity to move forward. It provides Ian Paisley with a unique opportunity to move forward. There is an opportunity now with the Irish language to give ownership to all our people.
"Sinn Féin has met with Minister Poots recently to discuss Irish Language legislation and for Ian Paisley to claim the campaign is divisive and discriminatory is wrong.