16 August 2007 Edition
Féile An Phobail : unique and heady mix provides enjoyment for all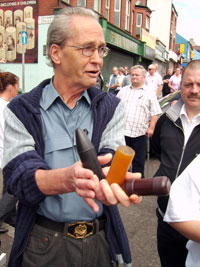 When Guernica came to West Belfast and other festival yarns
BY LAURA FRIEL
Renowned mural artist Danny Devenney who, together with Mark Ervine, the son of the late PUP leader David Ervine, completed a replica of Picasso's famous Guernica painting on Belfast's Falls Road, travelled to Madrid last week to view the original before reproducing the image on a wall in West Belfast as part of Féile an Phobail.
Picasso's painting, depicting the aftermath of the German bombing of a Basque village of Guernica during the Spanish Civil War, became one of the most influential anti-oppression images of the 20th Century.
"You can see the anger Picasso felt and his identification with oppressed and occupied people. I wanted to put Guernica on the International Wall to represent its relationship with other occupied and oppressed people throughout the world", said Devenney.
The artist paid tribute to the Spanish people and the generosity with which they approached the project.
"They couldnt have been more helpful. They allowed us to bring cameras and photograph the painting. They also gave us information packs and a poster to help us complete the mural back home", said Devenney.
David Ervine's widow Jeanette accompanied Sinn Féin's Gerry Adams to unveil the mural on Sunday.
"Everyone involved in this piece of work are to be commended for one of the most potent political murals to be produced in a long time", said Adams.
"It is also proof if it were needed that the people of this city have a huge amount in common, particularly the working people and those from the heartland areas like the Shankill and the Falls.
"I particularly welcome Jeanette Ervine's presence here today and her son, Mark's contribution to this wonderful piece of art", he said.

Plastic bullets
Earlier in the week Adams addressed a plastic bullet vigil held at the former Andersonstown barracks site. The annual vigil is held to remember the 17 people, nine of them children, who were killed by plastic bullets and the thousands more injured by this lethal weapon.
"Rubber and plastic bullets were and are a weapon of terror deliberately used by the British state and its agents to intimidate and terrorise citizens", said Adams.
"Since its formation the Unites Campaign against Plastic Bullets has held a vigil every year to remember the many victims and to demand the banning of this weapon. Foremost amongst those who stood here year after year, in good weather and bad, was Emma Groves", said Adams.
"Emma Groves was blinded in 1971 when she was struck in the face by a rubber bullet fired by a British soldier as she stood at her living room window. She died earlier this year after a lifetime campaigning against the use of plastic and rubber bullets.
"With her friend Clara Reilly, Emma had founded the campaign group and along with Jim McCabe, whose wife Nora was killed by a plastic bullet, and Brenda Downes whose husband John was killed by a plastic bullet, they waged a relentless campaign here and internationally against this weapon and in pursuit of the truth about its use", said Adams.
"Emma never allowed her disability or age to stand in her way and in many ways she came to represent the indomitable spirit of the many relatives of the victims of plastic bullets. Emma engaged in a worldwide campaign addressing the European Parliament, travelling to Russia and to the USA demanding the British be held to accountable.
"She spoke wherever people would listen, telling her own story and demanding plastic bullets be banned. I have no doubt that the progress we have made would not have been possible but for the efforts of Emma Groves and her friends", said Adams.

Eoghan Harris
Meanwhile former journalist and newly appointed Dublin Senator Eoghan Harris travelled north to take part in the festival's West Belfast Talks Back. Harris has a long and ignoble history of disparaging the struggle against British occupation and oppression.
"Irish people in the South would likely as not regard you as extremely odd people", said Harris to a delighted audience who greeted the revelation with good-humoured laughter.
A suggestion by BBC political correspondent and debate chair, Martina Purdy, that Harris was a man who had taken many detours on his political journey from being a 'Sticky' to supporting Bertie Ahern, was met with less good humour by Harris.
Employing a journalistic verbal sleight of hand, Harris declared himself "consistent in opposing the Provisional IRA campaign. Furthermore, seemingly unlike Purdy, he had a duty to tell people what they did not want to hear and dispel any of their illusions, no doubt while holding wilfully onto his own.
To sum up Harris' position – he supported the use of plastic bullets, was totally opposed to attempts to hold the British army and RUC to account for their actions and if the quest for truth and justice meant the exposure of British state collusion with death squads, the past was better forgotten.
"If you are going to embed yourself in the past forever you are only going to bring more and more pain upon yourself", warned Harris.
"It's about time that people decided that they should move on and leave the past behind", he said.
Harris is well placed to issue this advice – he managed to forget all about the pain of Northern nationalists at the height of British military oppression. No wonder he feels the quicker we all join him in that forgetting the better it will be, for Eoghan Harris at least.
Gazing into his political crystal ball, Harris predicted Sinn Féin would be wiped out in the next Southern election – a prediction greeted with unbridled glee by fellow journalist and securocrat Liam Clarke. In his Sunday Times column Clarke heralded Harris as a soothsayer.

Painting exhibition
Amongst Féile exhibitions was The Shot Lock a selection of oil paintings and print works exploring aspects of Long Kesh by local artist Raymond Watson, an ex-prisoner originally from the Cliftonville Road. The images explore ways in which people overcame barriers to communication particularly during the blanket protest when republican prisoners spent almost all of their time locked in their cells.
One of the most striking images, entitled The Walk depicts a cell with an imaginary window looking out onto a landscape of Fair Head in Ballycastle.
During the Blanket Protest prisoners used to put their mattresses up against the wall and just walk up and down the cell. The painting is basically about someone walking in a confined space technically but in their imagination they might be walking on a beach, said Watson.
Internment was also remembered with an exhibition of pictures and artefacts by the Gort na Mona Historical Society. The exhibition of handicrafts, many a testimony to the separation and loss suffered by internees and their families, formed the backdrop for an evening of memory, music and song in which former internees discussed their experiences.
The annual summer festival, Féile an Phobail, has to be unique. I doubt there are many events that combine West Belfast's heady mix of politics, performance, poetry, art, music, sport, food and fun. This year's festivities culminated in the March for Truth to Belfast's City Hall, a tour de force for those unlucky enough to undertake the three-hour journey from the outskirts of Twinbrook all the way to the city centre. At least the weather saved its worst downpour and subsequent flash floods until after Gerry Adams' speech.
The elements had also been kind earlier in the week during the Michael Ferguson memorial dander in Colin Glen Forest Park where the sun had shone throughout the afternoon as walkers discovered how to identify native trees and name local flora and fauna. It was a fitting tribute, but those of us who knew Michael had to admit, although he often enjoyed walking in the glen, he never dandered anywhere in his entire life. Perhaps next year the organisers will consider a memorial brisk march.

An Phoblacht Magazine
AN PHOBLACHT MAGAZINE:
Don't miss your chance to get the second edition of the 2019 magazine, published to coincide with Easter Week
This special edition which focuses on Irish Unity, features articles by Pearse Doherty, Dr Thomas Paul and Martina Anderson.
Pearse sets out the argument for an United Ireland Economy whilst Pat Sheehan makes the case for a universally free all-island health service.
Other articles include, 'Ceist teanga in Éirinn Aontaithe', 'Getting to a new Ireland' and 'Ireland 1918-22: The people's revolution'.