16 August 2007 Edition
It can't be tolerated!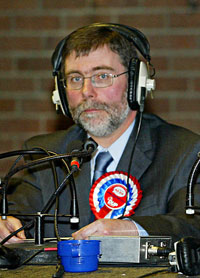 By Laura Friel
The DUP has a strange notion of tolerance. This week they opposed a request for Irish language signage in the City Cemetery, in the name of toleration.
A request for Irish language signs in the Falls Road cemetery was brought before Belfast council's parks and leisure committee by the community group Friends of the Falls Park. The group contended that as the cemetery was sited amidst the Gaeltacht Quarter, Irish Language signage would be appropriate. DUP city councillors saw it otherwise.
"Arrogant, insensitive and offensive", was Nelson McCausland's considered response to the modest request. It was "nothing less than another step along the republican road of cultural apartheid", said the irate DUP councillor.
"My own family grave is in the city cemetery and my parents are buried there. I am appalled by this proposal and I know that many others whose relatives are buried there will be equally disgusted by this insensitive and intolerant proposal", said McCausland.
Party colleague councillor William Humphrey said the signs did not represent the best use of rate-payers money.
"Thousands of people from our community have relatives buried there, those families visit the graveyard regularly and I don't think it is the right place to have Irish language signs", said Humphrey.
Not wanting to be excluded from a united display of unionist tolerance, UUP councillor David Browne placed his objections to the request on record. Dismissing the use of the Irish language as only a hobby and called for signage in Chinese and Polish instead rather than as well.
"Rate-payers should not have to pay for this just to satisfy someone's hobby", said Browne.
It's a pity that unionist city councillors haven't availed themselves of the opportunity of participating in their fellow Sinn Féin city councillor Tom Hartley's widely acclaimed cemetery tour. If they had done so, they would have known that many Protestant graves have inscriptions in Irish on the headstones.