16 August 2007 Edition
Belfast March & Rally : Thousands demand the truth about killings and collusion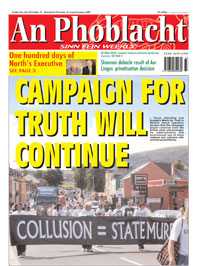 'No turning back' as crowds demand truth of Britain's role in conflict
BY EAMAN Mac MÁNAIS

Oscar Wilde famously wrote "The truth is rarely pure and rarely simple".  Those marching for truth  in Belfast last Sunday know that.   The families who attended, the youth and the international community who stood in solidarity also know that.  But what they also know is that the truth must come out. How a huge world power continued, and still continues around the world, to subvert and collude with local militias to kill and suppress those they claim to represent still needs to be answered.  This was the context for the annual August March and Rally in Belfast on 12 August.
As the throngs of people marched along the Falls, relatives held pictures of their loved ones. The pictures reflected the indiscriminate nature of collusion – men, women and children all victims. Black taxis lead the march, an organisation who has lost many workers to the assassin's bullet, including Caoimhín Mac Brádaigh. There followed posters and placards remembering the Hunger Strikers.  Members of Relatives For Justice, the United Campaign against Plastic Bullets and Sinn Féin Cumainn all made their presence felt and estimates of up to 10,000 people marched to City Hall.
At city hall, two hours later- a testimony of the huge crowds who travelled to Béal Feirste, Jennifer Mc Cann MLA chaired the proceedings.  Jennifer, herself a veteran of the struggle, lost her father in the past week. Ar lámh dheis Dé go raibh sé.
Following some brutally honest street theatre and a notable performance by Martin Meehan, Jennifer introduced Amanda Fullerton, daughter of Donegal Sinn Féin Councillor Eddie Fullerton who was assassinated by unionist paramilitaries at his home near Buncrana in 1991. The family has called for Taoiseach Bertie Ahern to establish a public inquiry into the Garda investigation into his death. The PSNI Historic Enquiries Team (HET) has raised questions about the conduct of the Garda investigation and the family were told that the RUC identified the main suspects to the Gardaí within weeks of the killing but the HET can find no record of the Garda asking the RUC to question these suspects.
RUC Special Branch collusion with the UDA in the area bordering on Donegal is a matter of public record. Witness evidence in the Fullerton murder was never pursued and despite the fact that the RUC admitted knowing the killers' identities, no one was ever questioned or charged. 
Mark Thompson of Relatives for Justice, himself a relative of a victim of collusion and a long time campaigner for the truth who has helped dozens of families to focus their campaign, spoke of the need for continued pressure to be put on the faceless mandarins in Whitehall and on  10 Downing Street.
"We need to narrow the permissible amount of lies, propaganda and misinformation about the murders of our loved ones. The British state must face up to its responsibilities for its actions during the conflict." Thompson said that a truth commission could achieve this.
"There are equally challenges for our community regarding truth but our community has met its challenges with courage and we will be vindicated, as what we do is morally right and we do it with integrity. The British government must now stand up and meet its obligations and match that integrity. The challenge for us all is to deliver on truth", Thompson said.
The rally was then addressed by Margaret Urwin of Justice for Justice for the Forgotten. The group was formed in 1996 and fights for truth and justice for the victims of the Dublin and Monaghan bombings of 17 May 1974. The Dublin and Monaghan Bombings left 33 people dead, and almost 300 injured, and saw the largest number of casualties in any single day during the recent conflict.
Unionist paramilitary group, the Ulster Volunteer Force (UVF), claimed responsibility in 1993. However, it is widely accepted that British military Intelligence colluded in the atrocity.
In January 2001 the bereaved families and survivors of the Dublin bombings of 1 December 1972 and 20 January 1973 joined with those of 1974 and amalgamated into a united organisation demanding to know the truth as to why all their loved ones died and so many were maimed.
Sinn Féin President Gerry Adams MP especially welcomed all the victims, and the families of those victims bereaved directly by British state forces and indirectly by them as a consequence of their collusion with unionist death squads.
"I think it is right and appropriate that we remember today John Downes, a young man of 23 who was killed by an RUC plastic bullet in an attack on this march, on this day in 1984", he said.
Adams said the objective of the march was to draw attention to collusion and British state violence – a policy which resulted in many thousands of victims killed, injured or bereaved, and the administrative and institutional cover-up by the British government and its state agencies.
Adams said the reality was that everyone knew such tactics were employed by the British and in quiet moments British Ministers privately admitted it. While the families, and the people who suffered directly from it know the truth, the British government has never acknowledged it.
"On the contrary they have employed the full weight of their political influence and authority to deny, cover-up and suppress the truth. The extent of this cover-up is breath taking.
"Collusion and shoot-to-kill and torture were integral to the very fabric of the British system's political and counter-insurgency strategy.
"To list today all of the countless examples of shoot-to-kill operations, plastic bullet deaths and of collusion would be impossible. There are too simply too many.
"It is also argued by some that because the British had agents in the IRA that there was republican collusion.
"Yes the British recruited, blackmailed, tricked, intimidated and bribed individual republicans into working for them and I think it would be only right to have this dimension of British strategy investigated also.
"If the British state used former republicans to do its killing for it then the victims of that policy have the right to truth also.
"The infiltration of organisations, the tactics of divide and conquer, of counter gangs, has long been a hallmark of British policy.
"But to compare, as anti-republicans do, this policy with the structured control and direction of unionist paramilitaries in the conduct of their war is disingenuous.
"However both strategies have a number of things in common. They were about the defeat of republicanism. And they failed. That objective has not been achieved. And it never will be", Adams said.
He said republicanism was now stronger than it had been for almost a century. Genuine republicanism was about the unity of Catholic, Protestant and Dissenter and would grow stronger in the time ahead, and through completely peaceful, political means.
"That is our message today. We will never turn back. It is not my intention to take us through the last 38 years of the British military campaign. This ended only at the end of last month. It also ended in failure.
"The deployment of British troops was to uphold the status quo. That status quo has changed and will continue to change, irreversibly in the time ahead.
"So, however British military apologists seek to defend their role in Ireland it is totally and absolutely indefensible. And it is because of that reality that there is a refusal to acknowledge the actions which it carried out", he said.
But the Sinn Féin President said that if there was to be an inclusive healing process and a genuine process of reconciliation then the British government must face up to its responsibilities.
"I know why the British government is reluctant to do this but it perplexes me that unionist politicians are so opposed to such a course. It is in the interest of all our people that there is a genuine and successful healing process. All political leaders have a responsibility to promote this. That means thinking beyond any sectarian, sectional, party political or self interest", he said.
Republicans had acknowledged many times the hurt they inflicted during the conflict.
I have expressed my personal and sincere regret and apologised for that hurt. I do so again today.
"The IRA has also acknowledged what it has done. That is the right and proper thing to do. The IRA has apologised to all those non-combatants it killed or injured and their families. Are victims of the other combatant forces not entitled to the same respect and consideration?", Adams said.
The British Government had a legal and moral responsibility to acknowledge to you what its forces and system did, he said while the Irish Government has a constitutional, legal and moral responsibility to actively promote this course of action.
"Every citizen has the right to be treated with respect and dignity. That is your birthright. There must be no hierarchy of victims and an end to the demonising of victims, of victims families and victims groups.
Speaking of events at West Belfast's Féile an Phobal where harrowing stories were told by the families of those killed in Ballymurphy in the aftermath of internment, Adams pointed out that there were no TV cameras to witness and record what was being said.
"There was no BBC, or UTV or RTE. The media has a huge responsibility to shine a light on these events. It hasn't done that in the past. Sections of the media carried British Army or RUC statements and claims as fact.
"Sectarian killings of Catholics were routinely described as apparently motiveless murders.
"So even now years later the sections of the media involved need to be objective.
"There is a responsibility to be balanced and fair in how all these matters are dealt with. For example, one cannot imagine the newsrooms talking about RUC terrorists or British Army terrorists or UDR terrorists. If the media is really to be impartial then it should not refer to IRA terrorists either.
"The fact is that the families of IRA volunteers who were killed in the war are due as much compassion and respect as the families of British soldiers or other fallen combatants.
"It has also been said by our opponents that Sinn Féin should not be raising these issues. We are accused of hypocrisy; of raking over the past.
"We are told we should let things be.
"It is my very firm view that republicans need to deal with all of these matters in a very sensitive way. This isn't about point scoring. It's up to us to persuade others that it's also in their interests to have the issue of collusion and state killings dealt with.
"Brushing it under the carpet, revising our history to exorcise the role of the British state in fomenting and prolonging conflict in our country, is in no-ones interest.
"Sinn Féin has a mandate freely given by hundreds of thousands of people across this island and we will use that mandate in support of victims and their families.
"The Irish Government also has a responsibility to assert and actively promote the rights of victims, including victims of collusion and British state violence here and in its own jurisdiction.
"At Weston Park both governments gave a commitment to hold public inquiries. They have not kept these commitments. It is little wonder that the families involved are frustrated.
So, how can an acceptable process be achieved? In my view any process of truth recovery must be victim centred and therapeutic. Sinn Féin is not being prescriptive. We are not attached to any particular model at this time. There are clearly certain values and principles involved. For example, and as I have just said, any process should be victim centred. There can be no hierarchy of victimhood. The British government cannot set up such a process.
Caithfear a bheith neamhspleách le cothrom na bhfírinne do na híospartaigh.
It must be independent. One way of achieving independence is to have an international inquiry. The United Nations or another reputable agency must be involved. One of the objectives of such an independent, international process would be to agree protocols and modalities which all relevant parties could sign up for.
All of this must be conducted in a sensitive and generous way and those of us in political leadership must approach all of the issues involved with humility and honesty.
I know that many of the victims' groups are looking at a proposition for an Independent, International Truth Commission and I have met with some of them on this.
I think there is merit in this idea. Our party will wait until the groups and families involved have concluded their deliberations before coming to our own decisions on this matter.
"I want to stress that our concern is for all victims. And this is important to us, especially in this phase of our struggle which is about nation building.
"Ag tógail pobail agus ag tógail Éire an chomhionnanas, tá a fhios agam nach mbeidh aon dul siar ann.
"Building a united harmonious society demands that these difficult issues are dealt with in an inclusive way as a necessary part of putting the past behind us. Looking after victims and victims' families and survivors is part of this.
"This includes ensuring that compensation is available to everyone involved on the basis of equality.
"That some sections are given special treatment while others are ignored is downright unfair.
"An American President Abraham Lincoln, seeking to tackle this difficult issue after five years of bloody civil war in that country, sought to reach out to both sides in his second inaugural speech:
"With malice toward none; with charity for all; with firmness in the right, as God gives us to see the right, let us strive on to finish the work we are in; to bind up the nation's wounds; to care for him who shall have borne the battle, and for his widow, and his orphan to do all which may achieve and cherish a just and lasting peace, among ourselves, and with all nations.
"So, my friends thank you for all your work.
Go raibh maith agaibh, leantar den fheachtas agus ní neart go cur le chéile.
Thanks especially for never giving up. There is only one way to go and that is forward. Be assured we are going forward. We will never turn back."
The day's events concluded with moving rendition of the ballad for Mairéad Farrell.  I think Mairéad would have been proud that on that Sunday in  Belfast no-one was turning back.