2 August 2007 Edition
Letter to the Taoiseach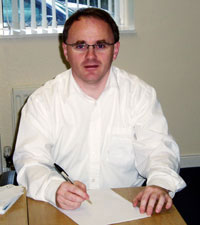 I see that the Brits have ended their 38-year role 'in support of the police' in the Six Counties.  They called that campaign 'Operation Banner'.  Believe it or not, the Right Honourable Bob Ainsworth MP, the British Minister of State for their armed forces wrote to me personally on the matter.  Bob, in a letter dated 25 July 2007, said that their role had been 'to maintain public order and combat the challenges of terrorism and sectarian violence in Northern Ireland.'
Now it transpires that there are still 5,000 British soldiers based in the Six Counties.  They are housed apparently in 'a peacetime garrison'.  In Omagh, the Lisanelly Barracks has been vacated by the British Army and some local unionist Councillors, Ross Hussey among them, want a British Army museum on the site.  I have told Ross it must not become a shrine to the British Army in Ireland.  We must not allow them to erect a shrine.
Moving on Taoiseach, I was talking to a woman in Gortin the other day and she tells me that she tried to lodge a sterling cheque in a Euro account that she possesses in Dublin. She did so by visiting her branch of the Bank of Ireland in Omagh. It could not be done. However, she was advised, if she drove to Letterkenny, then perhaps her sterling cheque could be transferred to Dublin.  
Now that Derry are preparing to face yourselves in the Quarter Final of the All Ireland, a man from Slaughtneil contacted me to say that a Dublin hotel wanted a Euro cheque and not the sterling equivalent for his stopover.  His own bank in Magherafelt subsequently charged him £14 for the privilege of this transaction.  Do you think that the Slaughtneil man should get a Debit Card or a Credit Card?
The reason I am telling you this, Taoiseach, is that I was always told that the two governments were working closely together to make sure that obstacles to cross-border mobility in terms of business and commerce were being removed.  If I have a word at my end with Peter Robinson, the Minister for Finance in the Six Counties, can you speak to Brian Cowen?
I know that you are having a spot of bother to do with business transactions allegedly using dollars and there is 3,000 miles of water separating Ireland and America. I can understand that there might be difficulty there to some degree but sharing 300 miles of land should bring with it the removal of currency differentials at the very least. The days of carrying sterling in one pocket and euros in the other need to be brought to an end, Taoiseach, for the convenience of people who live in or visit this country.
As I write to you this week, Taoiseach, I have learned that you may announce this very day (Monday) your eleven nominees for seats in the Seanad.  There is an awful lot of talk about reforming the Seanad.  Most of this discourse tends to focus on making the institution more democratically accountable.  You have heard me say this before but I must say that I will be extremely disappointed if you do not nominate at least one Irish republican from the Six Counties to the Seanad this time around.
There is a rumour that you might nominate Maurice Hayes again.  That is a matter for yourself, of course.  If things were right, however, you would be nominating someone from the community sector or with a legal background or a figure from the world of the GAA in the North.  Someone who is impatient for the reunification of our country.  I would like you to nominate one such person at least in an effort to restore some wee balance in the Seanad.
Back to those 5,000 British Soldiers who will still be based in Ireland, even after Operation Banner has ended. If I write to the Right Honourable Bob Ainsworth MP seeking their departure as well, can you bring the subject up with Gordon Brown?
Míle buíochas for everything.

Is mise le meas
Barry McElduff



NB: Bertie Ahern can be contacted on (00 353) 1 619 4020 or e-mail [email protected]  Address: Office of the Taoiseach, Government Buildings, Dublin 2.