2 August 2007 Edition
West Belfast to host Anti-Racism World Cup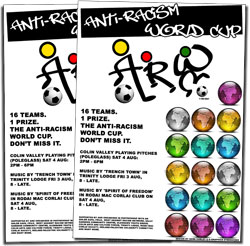 The Anti-Racism World Cup rolls into West Belfast as part of this year's Féile An Phobail programme.
The tournament, which will be held on Saturday 4 August in the Colin Valley playing fields, features 16 teams from around the world.
And among the countries represented at the event will be sides from Cuba, The Congo, The Basque country, Palestine, Italy, England, Catalonia, Kurdistan and Germany as well as local Irish teams from various ethnic and racial backgrounds.
The Anti-Racism World Cup has been running for many years, having been hosted in various European cities, and this is the first time it has been hosted in the Six Counties.
"The idea behind the Anti-Racism World Cup is the promotion of inclusion and racial solidarity", said Séan  Mac Brádaigh one of the events organisers.
"We really want people from across the Six Counties to come along and enjoy the soccer and to demonstrate their abhorrence of racism and the bigotry that goes along with it.
"Having the event in West Belfast at the time of the festival will also be an opportunity for the many foreign visitors who travel to Belfast for Féile to show their solidarity with the players by coming along and supporting the event", said Mac Brádaigh.
As well as the soccer tournament, which will run between 2pm to 6pm on Saturday 4 August at the Colin Valley playing fields, there will be a number of events to promote international  solidarity taking place.
On Friday 3 August there will be a night of music and craic in the Felons Club from 8pm.
On Saturday 4 August, after the games have ended, Bob Doyle – a veteran of the Spanish Civil War – will give a talk on his experiences of leaving Ireland to travel to Spain to fight against fascism.
Doyle's talk, in the Roddy McCorley clubrooms, will precede the presentation of the Anti-Racism World Cup to the tournament winners which will be followed by a folk night.
Sunday 5 August, at 12 noon, will see the unveiling of a spectacular mural on the international wall at Divis Street.
The mural, painted by Belfast muralist Danny Devenny, will be unveiled by Bob Doyle in the presence of the players who took part in the world cup. After the ceremony they will join the opening Carnival Parade of the 2007 Féile an Phobail.
"Come and join us and our brothers and sisters from all over the world in a celebration of racial and cultural diversity and international solidarity to be remembered for a long time", concluded Mac Brádaigh.

For further details contact:
Seán Mac Brádaigh on 07926242636
[email protected] or [email protected]