2 August 2007 Edition
Veiled Ministerial threat to Pavee Point unacceptable - Ó Snodaigh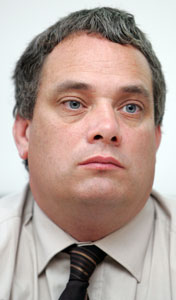 Sinn Féin Justice Spokesperson Aengus Ó Snodaigh TD has called on 26 County Justice Minister Brian Lenihan to clarify his comments regarding the possible withdrawal of exchequer funding to Pavee Point.
Pavee Point is a partnership of Irish Travellers and settled people working together to improve the lives of Irish Travellers through working towards social justice, solidarity, socio-economic development and human rights.
Speaking on Friday Ó Snodaigh said Minister Brian Lenihan had publicly made a veiled threat to withdraw Pavee Point's funding in punishment for their humanitarian efforts with an extended Roma family living in sub-standard conditions on Dublin's M50 motorway.
Ó Snodaigh said it was deeply disappointing that Brian Lenihan appeared to be carrying the torch of Michael McDowell in his approach to his portfolio as Minister for Justice.
"Minister Lenihan would be wise to remember that there was a reason why Michael McDowell lost his Dáil seat on three separate occasions. Citizens did not agree with his politics and abhorred his style of governance.
"I am calling on the Minister to immediately clarify his position on the exchequer funding of organisations such as Pavee Point who provide humanitarian support and assistance to those who most need it. I am also calling on him to apologise to Pavee Point, and other agencies who provided humanitarian aid to the M50 Roma families, for suggesting any impropriety in their work."