26 July 2007 Edition
Double standards on business investment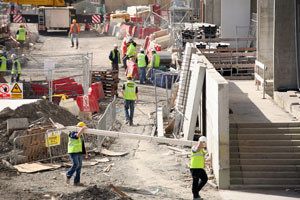 BY
ROBBIE SMYTH

Three linked statistics tell a miserable story this week about how the Irish economy is being managed by government. Enterprise Ireland invested €67 million in Irish business ventures last year, while other Irish investors ignored new businesses to pour €11 billion into commercial property investments, €8 billion of which was outside Ireland. Finally, only €63 million of the €20.75 billion Irish Government National Pension Reserve Fund (NPRF) is invested in Irish venture capital.
In a week when Enterprise Ireland (EI) published its 2006 venture capital report, a Davy Stockbrokers' survey predicted 35,000 lost jobs in construction over the next year. Earlier this month, 26-County jobless statistics rose to 163,400, the highest figure in three years.
And in that context, everyone agrees that developing new Irish businesses and jobs is a priority. Just last week, Enterprise Ireland chairperson Pat Molloy said that "a thriving indigenous industry is central to sustaining Ireland's economic growth", so it makes sense that investing in new businesses would be a priority for government. Enterprise Ireland's venture capital report, therefore, makes interesting reading.
The government agency invested €67 million in new businesses last year, an increase of €17 million on 2005, with €32 million allocated to first time investments. Praising the EI report, Fianna Fáil Enterprise and Employment minister Mícheál Martin said "the sector provides a vital source of funding for early stage and growing Irish companies". But Martin must know that the EI venture capital fund is small change compared to the other level of investment.
In January, the UCD centre for entrepreneurial studies reported that Irish start up firms and developing businesses attract just €200 million annually from investors
The National Pension Reserve Fund has finally this year made its first investment of €65 million into an Irish Venture Capital fund. It already has over €700 million invested in venture capital funds outside of Ireland. The NPRF has been managing Irish pension investments since 2001 and it is only now that it is dipping its toe into investments in new Irish businesses.
Figures released earlier this month by the Bank of Ireland Business Banking Start Up Barometer show that 10,041 new companies were formed in the first six months of 2007. Some of these businesses will fail but if the reason behind that closure is a lack of funding, it is inexcusable in the context of the current Irish investment environment.
According to the BoI Barometer, the cities with the highest level of start-ups are Dublin, Cork, Galway, Limerick, Kilkenny and Waterford.
The new businesses formed so far in 2007 include 542 IT related companies, 459 business and management consultancies, 298 financial intermediation companies and 1,059 construction and property management companies. Bank of Ireland also estimates that up to 1,000 of the new companies registered so far this year are owned by foreign national entrepreneurs.
The conclusions to be drawn from the economic data emerging this month is that when it comes to investment, the financial community is still property fixated, but thousands of small businesses are being formed and are driving economic growth, but with little real help from government. One thing is sure though, the sloganising from the government about developing new Irish business is set to continue.
26-County economic data

10,041     Number of new businesses formed in 2007 so far
€11 billion     Amount of commercial property investments made by Irish citizens in 2006
€8 billion     Total of 2006 commercial property investment outside Ireland
€67 million     Size of Enterprise Ireland's 2006 venture capital investments
€20.75 billion     Size of Irish National Pension Reserve Fund
€63 million     How much of that fund is invested in Irish venture capital
€700 million     How much of that fund is invested in venture capital outside of Ireland

An Phoblacht Magazine
AN PHOBLACHT MAGAZINE:
Don't miss your chance to get the second edition of the 2019 magazine, published to coincide with Easter Week
This special edition which focuses on Irish Unity, features articles by Pearse Doherty, Dr Thomas Paul and Martina Anderson.
Pearse sets out the argument for an United Ireland Economy whilst Pat Sheehan makes the case for a universally free all-island health service.
Other articles include, 'Ceist teanga in Éirinn Aontaithe', 'Getting to a new Ireland' and 'Ireland 1918-22: The people's revolution'.