26 July 2007 Edition
Interview : former internee Margaret Shannon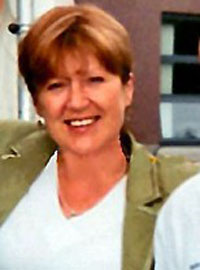 Never again
The legacy of Internment without Trial
On Monday 9 August, 1971, a series of raids across the Six Counties signaled the beginning of internment without trial, as hundreds of people were dragged to prisons and camps, where many were tortured. Within the first 24 hours 342 people were arrested and within three years the number of people held in Long Kesh internment camp alone had risen to 1,500. This was at the instigation of then Six County premier Brian Faulkner. Reminiscent of following tragedies like Bloody Sunday and the 1981 Hunger Strike it emerged that Free State governments of these periods were ambivalent enough in terms of addressing such tragedies.
The detainees were overwhelmingly nationalist and male but among the women interned was Belfast woman Margaret Shannon, who this week talks to Ella O'Dwyer about her own experience of internment, how the Irish government of the time let the nationalist people of the Six Counties down, and her hope that now – 36 years on – the importance of remembering such events is recognised. 
There's a whole lot of ways of putting people in jail. What exactly is internment?
We had, of course, the Diplock courts here in the North in the late '70s where there was no jury, but during internment there was neither judge nor jury. Internment is basically indefinite detention without trial.

What year were you arrested?
I was arrested on 3 March 1973. I was 18 years of age and was held for five days and then I thought I was going home. Of course I wasn't [laughs]. I was heading for Armagh Jail. I was taken from our house in Turf Lodge at the early hours of the morning. None of the others in the family were lifted. My dad said that morning – 'say nothing'. I took his advice. I got a bit of a pushing about and one cop  – my dad had warned me about him – he was called Harry Taylor – a veteran of brutality, said he'd come down to the cell and rape me. He didn't but I was afraid.

How at 18 did you cope with that kind of aggression and how was Armagh?
In God's truth I said, I'm not going to let it annoy me, and I knew there were republican POWs in Armagh ahead of me – Liz McKee and Tish Holland were there. Tish was only 17 when she was interned and then there were eight republican POWs in Armagh too.  The OC was Eileen Hickey.  Sadly, Eileen died in recent years. I learnt so much in Armagh about life, discipline, values and how to live with other people. We kind of leaned on each other and I made a lot of friendships in jail then – people I still know to this day.

Do you think the Irish Government could have done more to counteract Internment?
I feel the Irish Government let us down back then. In 1970, eight months before it was introduced by Faulkner, Jack Lynch, the then Taoiseach, and his Justice minister Dessie O'Malley, announced that the Irish Government was preparing to introduce internment in the South. In the event, they decided against it but the announcement was later used by the Stormont premier to justify bringing in internment in the North.
I'd like to see the Irish Government do what they should have done years ago – stand by their own people and particularly now during the Peace Process. I'd ask them to show sincerity after all these years – to have no hidden agendas and to do what they should have done all those years ago – take internment off the statute books. I'd ask the Irish Government to look into its own legislation and banish the pain of imprisonment without trial in the 26 Counties – it should be banished from Ireland, North and South.

What did you do when you came out of jail at twenty and how did internment impact on your life later on?
I spent two years in jail and it did take away part of my youth. My dad and my brother were also interned, so it was hard on my mother. She went to the rallies against internment – she was great. But you must remember that while I was in jail I had POW status.  We turned a bad situation into a good one, as they say, and we studied.
I'm a counsellor now – not a political councillor – I work in the area of suicide support and with victims of sexual abuse. I have a very happy life  now. I didn't let jail ruin my life but it took away some of the important years.

It is estimated that something in the region of 1,981 people were interned at that phase of the struggle. Were there many loyalists interned?
Internment went on until December 1975. It was a weapon traditionally used to put down republicanism in Ireland but in fact it had the opposite effect and actually led to increased support for the IRA. Out of almost 2,000 internees only around 107 loyalists lifted. That speaks for itself.

Do you think there has been progress in the North in terms of relations between the two main communities?
Yes, things have moved on. I remember the bigotry of unionism back at the time when I was growing up. When I was 15 I left school and took my first job as a junior clerk with an agricultural firm. I remember one day serving tea to some of the other staff. One of them refused the tea and said he didn't drink 'holy water'. When I told my boss about it he said I'd better leave. But I'm by no manner or means a bitter person. I feel, for instance, that the loyalist community haven't nurtured themselves enough all along. They never really took the chance to learn or study and I think they are only doing that now.

In the period of 30 years of what is loosely called 'the Troubles', the republican struggle has had many traumatic phases. Do you think there is a tendency for us to lose sight of the memory and relevance of internment?
Maybe. But for the people who were directly affected the memory is alive. I think we need to recall that period – internment – and the injustice that was involved. As I said, it didn't ruin my life, but it took away some of my youth and the internment of my father, brother and myself was hard on my mother. The families of all the other internees went through the same. 
We have had hugely successful commemorations around the 20th and 25th anniversaries of the 1981 Hunger Strike and these events were central to educating young people about those tough times.  It's important that people throughout Ireland be made aware of the consequences of internment and that we do all possible to ensure it never happens in this country again. It's important to remember, recall and look at what happened back then.

An Phoblacht Magazine
AN PHOBLACHT MAGAZINE:
Don't miss your chance to get the second edition of the 2019 magazine, published to coincide with Easter Week
This special edition which focuses on Irish Unity, features articles by Pearse Doherty, Dr Thomas Paul and Martina Anderson.
Pearse sets out the argument for an United Ireland Economy whilst Pat Sheehan makes the case for a universally free all-island health service.
Other articles include, 'Ceist teanga in Éirinn Aontaithe', 'Getting to a new Ireland' and 'Ireland 1918-22: The people's revolution'.