26 July 2007 Edition
O'Loan reopens Shoot-to-Kill probe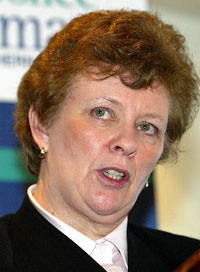 BY
 LAURA FRIEL
The Six-County Police Ombudsman is to re-examine files compiled by John Stalker, the former British police officer tasked with investigating allegations of summary execution, known as shoot-to-kill, carried out by the RUC in the early 1980s. The Ombudsman is to focus on the killing of Gervaise McKerr, one of a number of shoot-to-kill victims initially investigated by Stalker.
The issue has been referred to Nuala O'Loan's office after the British Government was ordered by the Council of Europe to rectify previous investigative failures. An attempt to initiate a fresh investigation three years ago was blocked by the British House of Lords.
The British Government has informed the Council of Europe that the McKerr case is now a matter for the Police Ombudsman. O'Loan is tasked with identifying possible further evidentiary opportunities as well as considering the original investigation.
However, it remains unclear whether the Ombudsman has the legal power to investigate. The RUC officers were charged with murder but acquitted and by law cannot be reinvestigated. A former chairperson of the Police Federation, Jimmy Spratt, has already denounced the re-examination as a witch hunt and has called for no cooperation. No police officer will be assisting the new inquiry, he said.
A series of shoot-to-kill incidents all involved RUC headquarters mobile support units in County Armagh during November and December 1982. In the first incident, the RUC shot dead three unarmed IRA Volunteers, Gervaise McKerr, Sean Burns and Eugene Toman, outside Coleraine.
Two weeks later, teenager Michael Tighe was shot dead and his friend Martin McCauley was injured when a covert RUC unit shot them at a farm house near Lurgan. A secret MI5 recording of the shooting later went missing.
The third incident, a month later, took place at Mullacreavie, where two INLA members, Seamus Grew and Roddy Carroll, were shot dead by an RUC unit.
Three RUC officers subsequently stood trial, during which one officer claimed that they had been ordered by their RUC superiors to lie under oath to cover up the murders. All three were acquitted but public outcry forced the then chief constable John Herman to call an inquiry.
That inquiry was headed by a senior British police officer, John Stalker. Instead of reviewing existing evidence, Stalker re-investigated the killings, unearthing the existence of a secret tape recording of the hayshed shootings. Shortly after requesting the tape from MI5, Stalker was removed from the inquiry. The inquiry was concluded by another British policeman, Colin Sampson, but the findings were never published.
Sinn Féin MLA Alex Maskey is calling for the immediate publication of the Stalker/Sampson Report. "Europe has already laid the finger of blame at the door of Number 10. Now we need to see the full publication of the Stalker/Sampson Report and the immediate publication of all other inquiries relating to the policy of shoot to kill," says Maskey.