19 July 2007 Edition
Ballymurphy to remember Tommy 'Todler' Tolan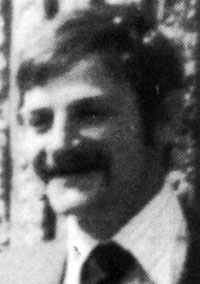 The 30th anniversary of the killing of IRA Volunteer Tommy 'Todler' Tolan is to be marked by republicans in Ballymurphy where his name and reputation is revered.
On Sunday 29 July republicans from the Upper Springfield area of Belfast will assemble at the Ballymurphy/Springfield memorial garden, on the Upper Springfield Road, before marching to Divismore Crescent where 'Todler' was assasinated by so-called 'Official IRA' (Workers' Party) gunmen on July 27 1977.
A plaque in memory of Volunteer Tolan will be unveiled on the day.
'Todler's' widow, Maureen McGuinness, will perform the unveiling. The couple had only been married two weeks and had just returned from their honeymoon when the gunmen struck.
The main speaker on the day will be the Sinn Féin President Gerry Adams, a close friend of 'Todler'.
So who was Tommy 'Todler' Tolan?
Tommy Tolan was the third child of Lily and Charlie Tolan, born in June 1946. The family lived in dire conditions in Carrick Hill in North Belfast before they moved to Ballymurphy where Tommy grew up.
The Divis and Black Mountain were his playground and it was on these high hills that embraced West Belfast that a young Tommy Tolan spent his childhood. Like so many young nationalists his education and employment prospects were limited but on leaving school at 14 'Todler' managed to find some employment.
However as the upheaval of the 1960s washed over the world from Viet Nam to the Civil Rights campaign in the United States so life in Ireland was to be engulfed in these global politics. Irish nationalists, so long under the jackboot of Unionist one party rule, took their inspiration from Black America and got off their knees. The unionist establishment unleashing its forces to quell the demands for equality attempted to beat the Catholic 'untermensch' off the streets.
The State's violence lead to a resurgent IRA re-arming to defend besieged nationalist communities. In response the Stormont regime, under Brian Faulkner introduced Internment. The unionists again chose repression rather than negotiation. Over four hundred Nationalists were rounded up. Eleven Catholics, including a priest Fr Hugh Mullan, were shot dead by loyalist and British army gunmen in Ballymurphy alone in the days after the imposition of internment. The events of 9 August 1971, lead 'Todler' into the IRA were he developed a reputation as a "fearless and dedicated soldier of Ireland".
He fought the British army whenever and wherever he found them. And like so many other republicans he soon saw the inside of a prison. Interned on the prison ship Maidstone in Belfast Lough in early January 1972 'Todler'  and six other POWs soon made light of the ship's security system. Within two weeks of his capture, on 17 January he escaped. He spent time on the border but soon returned to his native Ballymurphy where he again, with his close friend and comrade Jim Bryson, carried the fight to the Brits.
'Todler' was captured a second time and sent to the Cages in Long Kesh before his release in 1975. Again he reported back for active service and remained an active Volunteer until he was shot dead during a feud between the IRA and Workers Party gunmen.
Speaking to An Phoblacht Patrick Mulvenna of the Remember Our Volunteers Committee said: "This event marks the beginning of a five year programme aimed at commemorating and celebrating the lives of the dead of Ballymurphy. Our area is a proud area. It saw some of the bloodiest engagements between the IRA and British army in the course of the war and it was people like  'Todler' who lead that resistance. It is right and fitting that we honour their memory and sacrifice".
Adding his support for the project Paddy Adams called on people, throughout Belfast who knew 'Todler' to come along on 29 July.
"As republicans we should reflect on the sacrifices of our dead and re-dedicate ourselves to the struggle.
"We may have made a lot of political progress in the past number of years but we are still a people in struggle, our objective is unite our country. So until we achieve that goal we still have a lot of hard work ahead of us. The past sacrifices of our comrades should inspire us to re-dedicate and re-commit ourselves in our future activity".