19 July 2007 Edition
Sinn Féin positive in Seanad election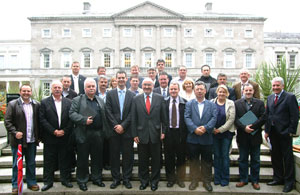 Sinn Féin is positive about the prospect of electing Pearse Doherty as the party's first ever member of the Seanad in Leinster House. The party has contested the election for the first time on the basis of its strong performance in the local elections of 2004. County and city councillors as well as TDs vote in the election.
Sinn Féin has 54 city and county councillors and four TDs, giving it 58 votes in the Seanad election. Pearse Doherty is standing in the Agricultural panel where the quota is expected to be around 90 votes. The party believes it has garnered sufficient support to give it a good chance of securing a seat. The count in the election begins next Monday 23 July.
Candidates in Seanad elections stand on panels which are supposed to represent key sectors of society, such as Agriculture, Culture and Education and Labour, rather than in geographical constituencies. This was designed by Eamon de Valera, supposedly to allow experts in these fields to have a legislative role. In reality the panels are dominated by candidates from Fianna Fáil and Fine Gael who can elect them because of their superiority of numbers in local government and in the Dáil.
Sinn Féin has called for radical reform of the Seanad, including electing it by universal suffrage and extending the franchise to people in the Six Counties and to Irish citizens living abroad. Successive Fianna Fáil and Fine Gael-dominated governments have shelved the many reports and recommendations for reform, seeing the Seanad as a means of consolidating their domination of Irish politics at local government and Leinster House level.
Some may argue that Sinn Féin should not contest elections to such a body, given the undemocratic nature of its election. However the party decided at its Ard Fheis to do so on the basis that this is an important forum which we cannot allow the conservative parties to monopolise and that it is a potential site of struggle from which to advance our objectives.
The count in the election begins next Monday 23 July and full results should be known by the middle of the week.