19 July 2007 Edition
Peaceful outcome in Ardoyne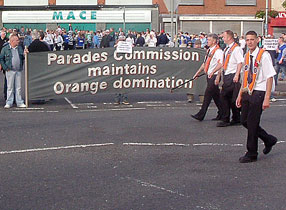 Sinn Féin's Gerry Kelly praised the work of the Ardoyne Parades Dialogue Group after last Thursday's loyalist Twelfth parade passed peacefully.
The Orange parade which consisted of a number of Orange Lodges and two bands marched past through Ardoyne and along the Crumlin Road on 12 July with only a minor incident which saw a nationalist youth lob a firework at the loyalists. No one was injured in the incident.
However tensions were raised as loyalist hangers-on confronted the PSNI close to a number of isolated Catholic homes further along the Crumlin Road. The loyalists dispersed after the intervention of Orange Order stewards.
Speaking to An Phoblacht after the parade passed peacefully Gerry Kelly said: "It is a credit to the work that the Ardoyne Parades Dialogue Group is carrying out that we don't witness the violence that has accompanied these parades in the past".
The issue of paramilitary bands remains a problem as local residents complained that both bands which paraded on Thursday displayed the insignia of the UVF and UDA.