14 June 2007 Edition
Honouring the Heroes of 1798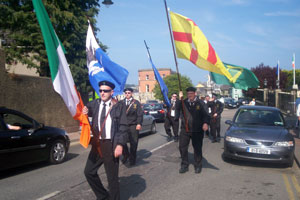 Arklow Sinn Féin recalled the battle of Arklow once again with a commemoration parade on Saturday last, 9 June.  This commemoration will now be an annual event, especially leading up to the 210th Anniversary in 2008.
Local Sinn Féin members performed a wreath laying ceremony at the spot on the Coolgreaney Road where Fr. Murphy was killed in action on 9 June, 1798.
The 210th Anniversary proves to be a bigger and better event as following on from the wreath laying on Saturday various individuals and groups have been enquiring how they can be part of the commemoration in 2008.
Anybody who would like to take part in the event in the future or wishes to find our more information should contact Arklow Sinn Féin Rep Adrian O' Reilly for further details.
Ring: 086 3514159.
[email protected]