14 June 2007 Edition
The Resistance Campaign 50 years on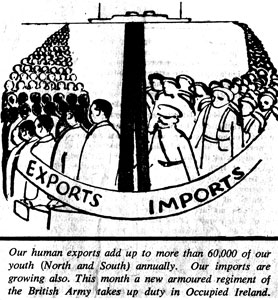 Mícheál MacDonncha continues a monthly series marking the 50th anniversary of the IRA's Resistance Campaign – more widely known as the Border Campaign – which commenced in December 1956. The series will be based on the monthly republican newspaper of the time An tÉireannach Aontaithe/The United Irishman.
8,000 at Bodenstown '57
The first Wolfe Tone commemoration at Bodenstown, County Kildare, since the beginning of the IRA's Resistance Campaign was held on 23 June 1957 and attended by an estimated 8,000 people. They gathered as the jails continued to fill on both sides of the Border in the clampdown on Republicanism by the Unionist regime at Stormont and by the newly elected Fianna Fáil government in Dublin.
Seán Duggan of Antrim gave the Bodenstown oration. He said he spoke "in the first place as an Ulsterman". He said Ireland's struggle for freedom was now being fought "in the glens and hills and villages and towns of the British-occupied portion of Ulster". Referring to the political establishment in the 26 Counties, Duggan stated:
"For forty years the party politicians down here have talked of partition – when it suited their politics to talk. Did they ever do anything about it? We have gown sick and tired of talk. We have gown sick and tired of those who would use this broken nation as a ladder in their climb to power...
"To say that Republican Ulster will not fight for its rights today is to say that we have at last accepted British rule and the British connection. And as an Antrim man I want to tell you that this has not happened and it never will."
That Ireland was indeed a 'broken nation' was clear elsewhere in the columns of The United Irishman which reported Bodenstown. The paper commented on the latest emigration statistics which showed that 200,000 people had emigrated from the 26 Counties between 1952 and 1956. This was an increase on previous estimates.
Unionist Home Affairs Minister W.W.B. Topping introduced new legislation designed to prevent Republicans from standing for election to the Stormont parliament if they intended to abstain from taking their seats. Having banned Sinn Féin in the Six Counties the previous December, the Unionist government now made it mandatory for all candidates to take a pledge to take their seats if elected. The measure also banned former prisoners.
Meanwhile across the Border released Republican prisoners were being thrown out of their jobs in State, semi-State and local government bodies. Under a provision of the Offences Against the State Act later declared unconstitutional, released men were barred from employment unless they signed a loyalty pledge. These included Tomás Mac Curtáin, son of the martyred Mayor of Cork, who was denied his job in Cork Corporation.
The United Irishman pointed out that State companies such as Aer Lingus and CIE had British military reservists on their pay-rolls; some of these had been called up during the Suez crisis and then returned to their jobs 'no questions asked'.
The latest batch of republican prisoners was in Dublin District Court on 9 June when 38 young men arrested at Glencree, County Wicklow, were each sentenced to two months. The men were unarmed and moving openly. Charges of membership of an illegal organisation were dropped and they were convicted of failing to account for their movements.
The death and funeral of lifelong republican Nurse Elizabeth O'Farrell was reported as was that of Franciscan priest Fr. Aloysius, who attended to some of the 1916 leaders, including Pearse and Connolly. Having spoken at Bodenstown on behalf of the Irish in the USA, veteran republican Tom McMonagle of Philadelphia died in Ireland.
The United Irishman reported in detail on British repression in Cyprus, including torture of prisoners, and poured scorn on the British Colonial Office which said that "Her Majesty's forces in Cyprus will rely on the worldwide knowledge of their traditions of humanity and decency..."
A priest from Maynooth College, speaking at the opening of Feis Cille Choinnigh, said that he came from a part of Ireland that did not enjoy political freedom and as long as any part of Ireland was occupied by a foreign army, then the freedom of Ireland was not complete. The speaker was An tAthair, later an Cairdinéal, Tomás Ó Fiaich.