14 June 2007 Edition
Garda violence in Mayo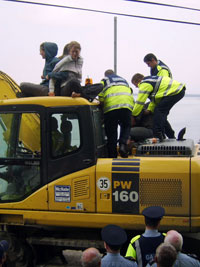 There was a series of incidents in Pollatomais, near Rossport, County  Mayo on Monday in which several people were injured and one man was arrested.
Without any prior notice or consultation, a large force of Gardaí with a JCB and a container arrived near the pub at Pollatomais, and attempted to get access to the privately owned land leading down to the estuary to install a temporary security building at the pier, near the solidarity camp at Glengad.
Shell's contractor, Rural Planning Services (RPS), intended to use this as a security building for boat crews surveying the estuary as a route for the disputed high pressure raw gas pipeline connecting the Corrib gas field to the onshore refinery site at Bellinaboy.
While there is public access to the pier and easy pedestrian access, the only roadway suitable for vehicles is private property, and the landowner had given no permission for machinery to use it. There have been landslides in the past, and in his opinion the roadway is unsuitable for JCBs. The landowner was on the phone to a solicitor while talking to Garda Superintendent Joseph Gannon, but Gannon walked away in the middle of the conversation.
Locals people and activists from the nearby solidarity camp barred the gate to the slip road by standing behind it. However, in a dangerous and reckless act, the Gardaí directed the digger driver to use the machine as a battering ram, and push the gate open while the people were standing at it.
The only way people were able to deal with this dangerous behaviour was to climb on the JCB.
In the jostling that followed, protesters and Gardaí were thrown off the roadway. One protester, from Rossport directly across the estuary, found himself in ditch with a Garda, who was bleeding from a cut on his face from hitting branches at the roadway. He held onto the Garda's jacket to prevent him falling further down the steep embankment. The hysterical Garda however hit out and punched him, not realising the danger he was in. When the two were lifted out by other Gardaí and protesters, the local man was handcuffed, arrested, taken to Belmullet in a Garda van and charged with assault.
RPS outlined various alternative routes for the disputed high pressure pipeline scheme at an "information evening" on Tuesday night. Monday's behaviour, when RPS and the Guards tried to literally bulldoze local people out of the way, does not bode well for the future of the scheme, and is seen as another example of double talk from Shell about "community consultation".
• People are asked to visit the area over the next few weeks to show solidarity with the campaign. Some Dublin activists will be travelling to Mayo for the anniversary of the jailing of the Rossport Five on 29 June. For more information call 0876181620.