14 June 2007 Edition
OPINION : Strategy not to blame for election disappointment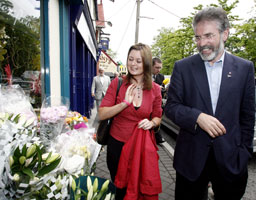 'Not our time' – but our day will come
Dublin Mid West representative JOANNE SPAIN responds to Eoin Ó Broin's analysis of the general election in last week's An Phoblacht.

It's the nature of republicans to be overly critical of our struggle. We are often slow to praise success and quick to criticise.
As an unsuccessful candidate, I will be the first to admit that we did not have a good election. We expected to double our Leinster House representation on a bad day, triple it on a good day. I was probably number eleven or twelve on the list – so I was hoping for a good day. When I got the call that morning to say we weren't doing as well as we'd hoped, I was gutted. But nowhere near as gutted as I felt when I heard that we weren't doing well in Donegal, Dublin Central, Dublin North East or Dublin North West. The absolute kick in the stomach was the news that Seán Crowe's seat was in trouble.
After an election like that, we do need to put our heads together and figure out what went wrong. We need to constructively criticise – but we should be careful not to start picking away at our strategy because of one bad election.
One of Eoin's arguments is that our success lies in slow, gradual grassroots campaigning and community work and cites our inability to win a seat in Dublin Central as an example of how we have deviated from that.
Can anyone say that Larry O'Toole, Dessie Ellis or Seán Crowe ever stopped community-based campaigning? They are the consummate Sinn Féin candidates and we still did not win our much-deserved seats in those areas.
We ran many new area candidates in this election, including Mary Lou McDonald, myself, Shaun Treacy, Anna Prior and Eoin  –  his first time in his constituency – just to name a few. Running new candidates is a part of elections. If a representative retires, or does not want to run, somebody has to be put in their place and so Mary Lou McDonald ran in Dublin Central. She was new to the constituency, and didn't have the same history in it as Larry or Dessie in theirs, but this was not the reason we didn't take the seat there. The organisation behind her had worked the constituency for many years. She ran a solid campaign. She is well-known and liked by the public, as evidenced by her European election. Her selection in that constituency was not a deviation from what has worked for Sinn Féin in the past. Mary Lou as a candidate has succeeded for us before and will do so again. 
Eoin also mentions the leaders' debate.
One of the myths that has been propagated by the establishment media is that Gerry somehow managed to lose us the election because of his performance on RTÉ that night. I don't think Gerry was at his absolute best during the debate. We've had a long year. He had just come out of another election, a historic decision on policing and the Assembly negotiations. But it's a reflection of how much of an asset the Sinn Féin president is that he was criticised in that debate for not being exceptional, while the Fine Gael leader Enda Kenny was forgiven for "holding his head above water" in his own debate.
I expect the media to talk things like this up. I'm disappointed when republicans do the same.
Fianna Fáil may have made a virtue of winning elections based on their leader, but Sinn Féin is more than one member. However our leadership performed in the media – and there were some excellent performances, including Caoimhghín Ó Caoláin on several occasions – our campaigns on the ground did not rely on their telly appearances to win seats.
Eoin also makes a point about us not defending our left-wing policies and changing them mid-campaign. He says that the centre ground in Irish politics is too crowded and that Sinn Féin does not belong there. He mentions voters in Dublin South Central turning to Bríd Smith and Joan Collins.
I agree that we seemed to lose consistency on taxation mid-campaign. We need to work extensively on our economic policy for future elections. But I take offence at Eoin's brush-stroke remarks that we failed to defend our left-wing policies.
The fact is that we have many, many left-wing policies that never saw the light of day in the campaign thanks to the continued censorship of our biased media. I hosted the press conference in which we laid out our extremely radical health policies, for example. RTÉ didn't even mention Sinn Féin that day. Throughout the campaign, the policies we were putting out were either ignored or marginalised for not being costed to the last cent.
As republicans, we should have always been ready for some sort of hostile media onslaught during this campaign. Previously they had the War; now they have our policies. Why was anybody surprised? How can Eoin quote "the media" as an authority on us "evading" taxation answers? Does Eoin consider what "the media" thinks as gospel?
Ultimately, apart from taxation, what radical republican policies can we be accused of departing from during the campaign? Did we stop talking about social housing? Free public health care? The equality agenda? Did we revise our position on the IRA? No. None of this happened. We messed up on taxation – nothing else. This was not a departure from left politics as we know it.
Incidentally, I met both Bríd Smith and Joan Collins in a radio debate during the campaign. When I brought up the Hunger Strikers and the presenter – as they are wont to do – subsequently brought up Jerry McCabe, both women turned on me. If they are an example of the candidates that left voters turned to then I think we need to question our education of voters, not our policies.
Look, there are a lot of reasons why it didn't happen for us in this election.
The Left isn't doing so well throughout Europe at the moment. And Ireland's economy is thriving. People may not be entirely happy, but they are content. We as a party may feel that our policies are the only sane way of moving forward in this country, but that does not mean every voter agrees.
We had high expectations arising from our recent successes in the North. Perhaps we should have considered two things: first, that the North working out may have taken us off the agenda somewhat and second, that talking up the Assembly - a small parliament and something we consider not so important in the scale of our all-Ireland goal – may have been slightly naïve.
Perhaps the main mistake we made in this election was that we expected society to move with us before it was ready to accept the progress that Sinn Féin has made and the new left alternative available. Yes, we could have done more to increase our vote, but let's not tear up our strategy figuring out where we went wrong. Let's be a little bit fatalistic and accept the facts – this was an election about who was going to make up the Government and we didn't feature as strongly in it as we would have liked. More importantly, it was simply not our time.
We're the same party. We're getting stronger. Let's accept our loss and move on.