24 May 2007 Edition
Letter to the Taoiseach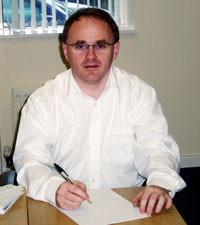 Maybe you have been too busy to check the Aertel Pages but, shock, Clonoe O'Rahilly's put Carrickmore out of the Championship at the First Round stage.
One man who will undoubtedly be celebrating is Paul Doris in Philadelphia. Paul once told me that Clonoe would have won far more Tyrone Club Championships if it had not been for two things: Philadelphia and Long Kesh.
With tighter immigration controls and with the virtual raid out of Long Kesh, Clonoe's excuses are fewer today. We will see how they go. I have a bet on with Michelle O'Neill, our new MLA for Mid-Ulster whose clann is steeped in the tradition of Clonoe.
That match, Taoiseach, took place at O'Neill Park in Dungannon. I graced that pitch myself the previous day, playing for the Leinster team, above all teams, under the leadership of Cianan Kelly. We carried off the Patrick Kelly Cup but my most vivid memory is of renewing acquaintances with, none other than Benny Hurl. I marked Benny - or rather he marked me - in a Colleges game 20 years ago.  So, at O'Neill Park when I lined up again against the hard man of Tyrone football, I told him that it was payback time. It had been 20 years. There was a lot of things happening off the ball during that game as you imagine.  
At the final whistle, Hurl certainly knew he had been in a game. Some people compare Benny Hurl to Francie Bellew. I am afraid of neither and you tell that to Bellew if you see him.
Imagine me, consumed with gaelic football in the midst of one of the most crucial elections in the history of the 26 County state. I see that you have put up John O'Leary in the Dublin North constituency. It was so predictable that he would claim to be a safe pair of hands.  We have Matt McCormack running there and I believe that Matt is strong under the dropping ball at the edge of the square.  And John O'Mahoney is running alongside Enda in Mayo where we have Gerry Murray in the role of a third midfielder. Did you see the rumpus in Donegal caused by the intervention of four senior County Donegal footballers deciding to formally back Sinn Fein?  When Gaelic Footballers publicly back Sinn Fein it is usually the cue to say that politics and sports should not mix.  
Here, Bertie, I see that you addressed a Joint Session of the House of Commons and the House of Lords in England. While you were on your feet, patting the back of Tony Blair as part of a Mutual Appreciation Society, the BBC contacted me for my take on the proceedings. They wanted to know if Sinn Féin would perhaps contemplate taking our seats at Westminster. David Dunseith of BBC's Talkback and I are good friends. But I told David to catch himself on. Have a titter of wit. Sure, Taoiseach, there are only 18 seats of the 646 set aside for Ireland at Westminster and there is the small matter of an Oath of Elegance to the Queen of England to contend with.  
Seamus Mallon and Eddie McGrady always loved Westminster. And you yourself, Taoiseach, mentioned Charles Stewart Parnell. I was thinking more of absentionists like Phil Clarke and Tom Mitchell from 1950s Campaign. I was thinking of Bobby Sands and Owen Carron.  And the Sinn Féin Five who are probably in London more often than SDLP MPs.  And I thought of the men and women who established The First Dáil. What under God would take you to Westminster?
Besides, what way are you getting on with the issue of Northern representation in the Oireacthas?  What way are you getting on with establishing a North/South Parliamentary Forum?             
Is mise le meas
Barry McElduff
NB: Bertie Ahern can be contacted on (00 353) 1 619 4020 or e-mail [email protected]  Address: Office of the Taoiseach, Government Buildings, Dublin 2.
An Phoblacht Magazine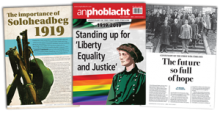 AN PHOBLACHT MAGAZINE:
Don't miss your chance to get the first edition of 2019 published to coincide with the 100th anniversary of An Chéad Dáil and Soloheadbeg.
In this edition Gerry Adams sets out the case for active abstentionism, Mícheál Mac Donncha takes us back to January 21st 1919, that fateful day after which here was no going back and Aengus Ó Snodaigh gives an account of the IRA attack carried out on the same day of the First Dáil, something that was to have a profound effect on the course of Irish history.
There are also articles about the aftermath of the 8th amendment campaign, the Rise of the Right and the civil rights movement.