24 May 2007 Edition
Reconciliation : Republicans meet unionist paramilitary figures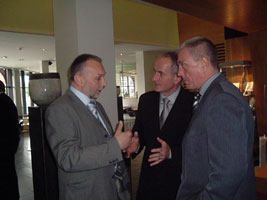 Former combatants meet as Reconciliation Network launched
BY LAURA FRIEL
Senior republicans and loyalists attended the official launch of Belfast Reconciliation Network last week. The network was established in 2001 at the height of community tensions particularly in North and East Belfast.
Engagement and dialogue have been the cornerstones of the network's approach to interface tension and conflict resolution. Their success was evident in the wide range of people and organisations attending the launch.
While the initiative came from nationalist communities seeking to develop post ceasefire strategies, engagement with loyalist communities has necessarily been a key component.
The presence of former combatants, senior republicans and unionist paramilitaries from both the UVF and UDA, as well as officials from the NIO and 26 County Department of Foreign Affairs gave some indication of the headway already achieved through conflict resolution.
Senior republicans, Seán Murray and Bobby Storey mingled with former UVF prisoner Tom Roberts and Jackie McDonald and John Bunting of the UDA. Also present was Orange Order deputy chaplain Mervyn Gibson and Holy Cross priest Fr. Aidan Troy.
The initiative was launched by Martin McAleese, husband of the President of Ireland, Mary McAleese, and chaired by Gerry McConville of the Falls Community Council. McConville described the initiative as "a milestone in the road to conflict transformation". McAleese said the recent developments at Stormont provided a new opportunity for interface disputes to be resolved using "brainpower not firepower".
Golden moment
McAleese said hearts and minds were widely engaged in peacemaking as never before providing a "golden moment bursting with opportunity". Interface areas "that have suffered so much during recent troubles" have "a huge contribution to make to the successful future," said McAleese.
"The landscape of tomorrow will not be a landscape of waste but of wonder at what this coming generation can achieve when out from the shadows of the past," said McAleese.
McAleese urged communities to "fast forward into a better furture" by getting involved. The needs of interface communities mirrored each other and instead of working separately they needed to find solutions together, said McAleese.
Speaking on behalf of the network, Seán Murray said the group hoped to develop a common strategy to interface issues with loyalists.
"Our aim is to develop a common decisive approach to interface issues. These are the communities who have suffered disproportionately more than any other during the conflict," said Murray.
"When the political process was stalled it was groups like ourselves who encouraged dialogue and engagement between the two communities. With the return of devolution the feel-good factor is at its zenith," said Murray.
"We need a common strategy to tackle social deprivation, poor educational achievements and a host of other issues which have blighted the working class communities that have been divided by peacelines for 30 years. We want to develop a joint vision which will make the peacelines redundant and devoid of fear and hatred," he said.
"We want to develop the vision of a shared future. We believe we can only start to tackle these issues when we are speaking with one united voice for people on either side of the peaceline," said Murray.
"Weaponry no longer viable option"
Frankie Gallagher of the UDA-aligned Ulster Political Research Group said loyalists should now learn from republicans. Welcoming the initiative Gallagher said republicans and loyalists had been politically and culturally miles apart while only living a "stone's throw away" from each other.
Gallagher said republicans and loyalists had travelled a similar political journey since the 1994 ceasefires with one significant difference.
"Your community has, through a process of conflict resolution and transformation, learnt and moved to a position that you can now prove the most powerful weapon is the ballot box," said Gallagher.
"This is in itself a major achievement and you must be recognised and congratulated in your achievement. Loyalists must now learn how to make the ballot box work. Weaponry is no longer a viable option," he said.
Tom Roberts, former UVF prisoner welcomed the interface initiative as a "genuine attempt to address a legacy of conflict.
"Catholic and Protestant families in working class areas had been blighted by sectarianism and there was an onus on republicans and loyalists to take part in genuine engagements to find lasting solutions to interface problems", said Roberts.
"Abraham Lincoln famously said 'Am I not destroying my enemies when I make friends of them?' I hope that is what we can ultimately achieve," said Roberts.