24 May 2007 Edition
Irish and British Governments criticised on fishery policies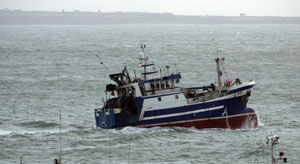 The Irish and British Governments have both been criticised this week over their attitudes to the Irish fishing industry.
South Down MLA Willie Clarke, speaking in the Six County Assembly said people working in the fishing industry must have their say on the future of the local seafood industry and the Assembly must bring forward imaginative and workable ideas to reverse the regressive policies of successive British administrations.
"We need to examine ways of developing an integrated, all-Ireland approach to fishing on the island of Ireland otherwise it will be impossible to reverse the dramatic decline of the seafood industry not only here in the North. We need to work with the authorities in the South and look at ways of promoting the Irish seafood industry and marketing our produce on a national and international basis in ways similar to countries such as Spain and France", Clarke said.
Clarke said that in South Down, the decision to allocate fishing towns and villages such as Kilkeel, Annalong and Ardglass priority rights from the Integrated Development Fund, and the establishment of a steering group representative of local councils and the fishing industry, were positive initiatives but much more needed to be done.
"Strategic alliances will succeed in promoting a coherent action plan and are essential in order for the industry to develop. There needs to be greater emphasis on the protection or conservation of stocks to ensure the longer term sustainability of the industry, particularly the whitefish fleet. Fleet renewable subsidies in the South have attracted critical comparison from the North's fishing industry and many of the representatives who have participated in negotiations in Brussels viewed fleet renewal as an essential element of fleet restructuring", Clarke said.
"Fish are a renewable resource and one for which there is an increasing demand from consumers, the future for the industry should therefore be extremely positive.
"The Welsh and Scottish Assemblies, recognise the importance of supporting their negotiating teams in Brussels, as of course does the Irish Government and this Assembly must take control of this issue and fight for a better deal in Europe", he said.
Kerry
Meanwhile Sinn Féin general election candidate in South Kerry Lynn Ní Bhaoighealláin has said that fishing communities have been made scapegoats for the failings of the Irish Government to implement proper fish conservation measures.
Speaking following a meeting with Baile na nGall salmon driftnet fishermen Ní Bhaoighealláin called on the Government to drop the 41% tax currently being levied on the compensation to the salmon drift netting sector.
She also called for the establishment of a properly funded Taskforce, with  fishing communities as the primary stakeholders, to prevent the erosion of coastal communities in Kerry.
Ní Bhaoighealláin said she was also meeting with the Maherees Fishermen and hoped to meet with the fishing community of An Daingean to listen to their concerns about the Harbour coming under the control of the Department of Communications, Marine and natural resources.