24 May 2007 Edition
General Election 2007 : The people will decide - Adams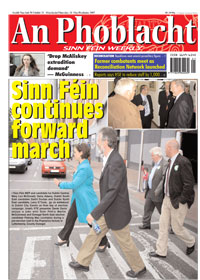 BY ELLA O'DWYER 
Sinn Féin President Gerry Adams speaking at the party's final press conference of the General Election campaign spoke of the goodwill he had encountered towards Sinn Féin among the broad electorate.
 "My sense of it, after a very intensive and extensive canvass is that there's a huge amount of goodwill out there for Sinn Féin. People appreciate what we've done in terms of the peace process. The campaign started on a Sunday morning and at that time the establishment parties were trying to present two blocs and to make Sinn Féin irrelevant. And while sections of the media and the establishment went off on a tangent Sinn Féin went on the doorsteps.
"I'm very satisfied that we're going to get a very good response. Of course we don't take that for  granted – the people have to speak. I would appeal to everyone to vote. There have only been semi-detached debates around some of the issues and people know that and have engaged with the candidates and with myself and other members of our national leadership. For example around disabilities issues, rural regeneration or the lack of it, regional development or the lack of it. Sinn Féin are very, very clear and people know this, that if we get a mandate for government we will use our mandate wisely to bring about an end to the two-tier health system, to begin a process towards Irish unity with a government focusing on that for the very first time since partition and dealing with a range of other issues which are about eliminating poverty and bringing about equality."
Reiterating his appeal to people to come out and vote Adams said: "I just want to once again appeal to voters – particularly people who are disadvantaged and first time voters. I can understand why some people might feel that they shouldn't vote or question what's the point. There's every point and I appeal to people right across the spectrum to give first preference votes to Sinn Féin and then to transfer to Sinn Féin and to empower us to bring the same focus and tenacity and vision that we brought to the peace process to deal with these other issues."
Asked if he would speculate as to how many seats Sinn Féin will take in the election the Sinn Féin President said: "I've heard some of the other party leaders making claims of how many they are going to get elected. All I know is that Sinn Féin is going to receive a very, very big vote. There's a confidence in us. People see our record, they know we deliver. So let's be cautiously confident that Sinn Féin is going to receive a mandate and in my opinion it is going to be a mandate for government and then post election it will be about putting together a programme for government which reflects equality and egalitarianism."
Regarding the main parties' oft-repeated reluctance to go into government with Sinn Féin after the election Adams said: "In the election in the North every single party campaigned against us and I also understand very, very clearly that these other parties believe in a two tier health system,  they believe in privatisation and some of them haven't even worked on the peace process. I also understand that they are electioneering and that they want this cosy little cartel of Tweedle dum Tweedle dee to continue but it comes in two halves – the first part will end when the people cast their vote and the second half will commence when those votes are counted and then it's down to real politics and working out a program for government that reflects the issues.
Asked who should Sinn Féin give their second preferences to Gerry Adams said: "First of all we want them to give their first preferences to us and we are also looking for transfers. Having said that it's a matter for peoples' own discretion. That's a decision for people to make." Asked what party he thought was best placed to bring Sinn Féin into government he said: "The electorate is best placed to put Sinn Féin into government. Some of the other politicians want to be in government for the sake of it. We don't. We have a proven record of being agents for change. If you want to measure our success or our failure you can do so by measuring the changes that we have brought about.
"We're not interested in being helped into government by any other party – that's like the old business of being brought in from the cold. The citizens will decide, not me, not any other political leader the people who cast their vote will decide who makes up the next government.