10 May 2007 Edition
New film documents Monaghan hospital campaign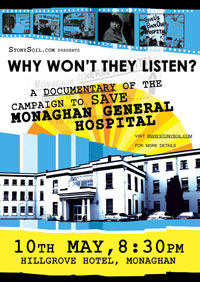 Ronan Connolly and Declan Reynolds, two amateur, independent filmmakers in Monaghan town have followed the campaign to save Monaghan General Hospital for five years. On 10 May their documentary, entitled Why Won't They Listen?, will be shown for free in the Hillgrove Hotel in Monaghan town. While the event is non party-political, the filmmakers find themselves having profiled the single biggest political issue in the region.
Why Won't They Listen? takes the viewer through the Monaghan hospital campaign over the past five years. The documentary begins with the Dublin march of protest to Hawkins House in the summer of 2002, and follows various demonstrations and events, culminating with views from local TDs and candidates. Events covered include the four-week Dáil hunger-strike, a convention of local hospitals in County Kildare, the Dáil 'coffin protest', the opening of the Monaghan by-pass, as well as an historical synopsis of the Monaghan campaign and references to similar campaigns across the country.
The documentary also features the popular song Hospital Shame, by Glaslough musician Jim McQuaid, which is available for viewing through the www.stonysoil.com website.
Intensive behind-the-scenes work has gone into preparing for the launch of the film. Over 50 hours of footage was captured and the painstaking work of editing, revising, scripting and organisation has followed.
Ronan Connolly states "The campaign for Monaghan General Hospital is a noble campaign. It resonates with many. No county has maintained such a consistent fight for their hospital in spite of government pressures. Over the past two decades there have been numerous demonstrations and an admirable vigilance on the part of ordinary members of the public willing to fight for what they see as a vital resource. In short, the campaign for Monaghan General Hospital is a story that needs to be told."
• Visit
www.StonySoil.com
for further details and to view a trailer for Why Won't They Listen?