10 May 2007 Edition
Women's Garden of Remembrance opened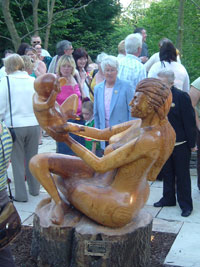 The republican women who were behind the Macalla na mBan project deserved every bit of praise that was heaped upon them last Thursday evening, 3 May after the official opening of the Women's Garden of Remembrance in the Roddy McCorley club in Belfast.
Sinn Féin President Gerry Adams, helped by young Eílis McCrudden, carried out the official opening of the Garden while Sinn Féin stalwart and Belfast councillor Marie Moore unveiled the magnificent sculpture of a woman holding a baby which is the centrepiece of the garden.
Unique in it's design, the garden is meant to be much more than a place of remembering. It is a place were people can go to relax and reflect on the sacrifice of so many republican women over the centuries of struggle against British rule in Ireland.
The Garden is paved with sandstone blocks engraved with the names of those who donated money to offset the cost of the Garden.
As well as the statue one of the other features of the Garden is a wooden shelter from where a visitor can sit with his or her thoughts and take in the view and admire the slate water feature, the plants and log installations.
Speaking before opening the Garden the Sinn Féin President reflected on the contribution to the republican struggle of many, "strong women down through the years".
He praised the strength of women such as Máire Drumm, Mairéad Farrell and Siobhan O'Hanlon who died a year ago from cancer.
Indeed said Sue Ramsey, one of the women behind the Macalla project, "the inspiration for the garden came after Siobhan's untimely death".
• Macalla na mBan or Echoes of Women still need funds to cover the cost of the Garden so anyone wishing to donate can contact the project at 028 90 235323.