10 May 2007 Edition
McDowell accused of cynicism over Ahern controversy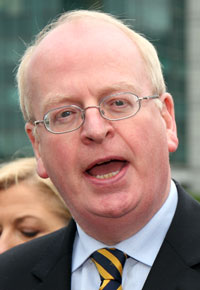 Sinn Féin Dáil leader Caoimhghín Ó Caoláin TD this week accused PD leader Michael McDowell of complete and utter cynicism in relation to the controversy surrounding Taoiseach Bertie Ahern's personal finances.
There had been feverish media speculation over the weekend that the Progressive Democrats were about to pull out of the coalition government over the controversy.
Speaking on Sunday, following a meeting by the Progressive Democrats' Parliamentary Party after which the party announced that it would not being pulling out of government, Ó Caoláin said he believed that the Taoiseach should make a public statement to clarify matters so that the election campaign could continue.
"From our own canvass it is clear, that people throughout the state, not least supporters of Mr Ahern's party want this matter clarified.
"I would urge the Taoiseach to make a full statement on the matter, so that the general election can concentrate on the other pressing matters which face this country – the run-down of public services including the crisis in our hospitals, and the inadequate infrastructure within this state.
"However nobody is taken in by today's posturing by Minister McDowell. His belated intervention in this matter is purely an electoral consideration'. Ó Caoláin said.