3 May 2007 Edition
Councillor receives third death threat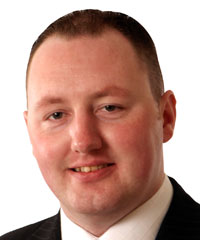 Sinn Féin Representative for Banbridge and District, Cllr. Dessie Ward, has received notice of yet another death threat. This is the third such threat against his life in the past 18 months. Ward received notice of the threat when the PSNI visited his Banbridge home on Friday.
Commenting Ward said: "This is the third such threat against me and as always it won't affect either the quality or level of my work as an elected representative. I will continue to represent all sides of the community to the best of my ability and won't be deterred by these negative elements who have nothing to offer anybody not least the community which they claim to represent.
"Rather than subdue me this latest threat will only encourage me to work even harder and build upon my successful poll in the recent Assembly elections.
"Individual members of the nationalist community in the area have received similar threats in the past which is unacceptable also. It is high time that local unionist elected representatives, including our local MP David Simpson, began to use their undoubted influence with these people. It is no longer acceptable for Mr. Simpson et al to sit on their hands while this kind of thing goes on in their own backyard."