3 May 2007 Edition
A heroe's welcome home for Willie Corduff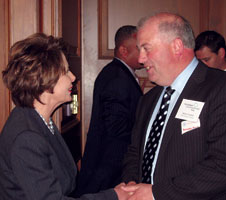 Campaigners against Shell's inland refinery at Bellinaboy in County Mayo greeted Willie Corduff, winner of the prestigious $125,000 Goldman Environmental Prize, and his wife Mary at Knock Airport on Wednesday.
Family, friends and supporters organised a motorcade trip from Knock Airport to the Corduffs' farm in Rossport, stopping off at the Mayo County Council offices in Castlebar. They also stopped at Ballina and at the trailer at the gates of the Bellinaboy refinery site, which has been Shell to Sea's campaign headquarters since 2005.
Corduff, who spent 94 days in prison in 2005 over his opposition to Shell's inland refinery and high-pressure pipeline, spent much of last week in Washington DC, meeting members of the US Senate and Congress, including Speaker of the House, Nancy Pelosi. He also had meetings with representatives from Amnesty International, the National Geographic Society, the World Wildlife Fund and other powerful lobby groups.
Corduff said: "The politicians and people from various environmental groups that we met in Washington said they couldn't believe that the Irish government and Mayo County Council would sit back and let Shell do what they are doing. The message from all the groups we met with was, 'don't give up, because you'll be ruined if you do'.
"We met some wonderful people, it really gives you courage," he said. "Representatives of many different environmental and other groups said they would help in whatever way they could. Many said they would visit Ireland to see Shell's operations for themselves."
The Corduffs also visited London this week, where on Tuesday they recorded an interview with BBC World Television's flagship current affairs programme, HardTalk, which has 60 million viewers around the world.
One of the US politicians who met Corduff in Washington is Senator Barbara Boxer, Chair of the influential Senate Environment and Public Works Committee. She told Corduff: "The environment is back as an issue in America. And the reason it's back is because of people like you, who understand the fact that human rights include the dignity of living in a safe environment."
Awarded annually to six grassroots environmental heroes, the $125,000 no-strings-attached prize is the largest of its kind in the world and is often referred to as the Nobel Prize for the environment.
Willie Corduff is the first Irish winner in the 18-year history of the Goldman Prize. He and the other five winners received their prizes at a ceremony on Monday, April 23 at the San Francisco Opera House.