3 May 2007 Edition
Fógraí bháis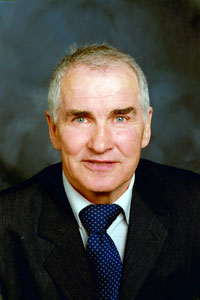 Republicans were shocked this week at the death of Sinn Féin Councillor Mickey McAnespie in a tragic farm accident.
Sinn Féin President Gerry Adams expressed his "deep shock and sadness" at McAnespie's death.
Michael McAnespie was the party's group leader on Omagh Council. He was killed on Monday in an accident on his farm at Loughmacrory. He was a married man with nine children.
Gerry Adams said that Michael was an "extremely hard working councillor who ably and conscientiously represented the people of Omagh. His loss will be deeply felt by all who knew him but especially by his family and friends."
On behalf of Sinn Féin, Gerry Adams extended his "heartfelt sympathy and condolences to his wife Patricia and his nine children".
Mickey McAnespie was a genuine man who worked tirelessly for people. He had no airs nor graces about him whatsoever and he always relished a good debate. Mickey was married to my aunt Patricia and they made a great couple. He was very devoted to his family.
Mickey made a big impression on anyone he happened to meet and he excelled in the role of Chairman of Omagh District Council in 2005/2006. He made an enormous contribution to local community organisations, including the GAA, the Credit Union and his local church.  
As a councillor, Mickey was hard-working and popular. He was the leader of Sinn Féin's ten-member group on the Council. Mickey was a strong campaigner for better services at the Tyrone County Hospital and he spent a lot of time helping people secure planning permission for their family homes in rural areas. I will remember him as a strong personality who always looked fit and healthy, a man who would not be slow to offer his own opinion while listening with total respect to anyone who had a contrary opinion.
You do not come across people of the calibre of Mickey McAnespie too often.
Go ndéana Dia trócaire ar a anam uasal.
BY BARRY McELDUFF