3 May 2007 Edition
Dáil General Election Profile: John Brady, Wicklow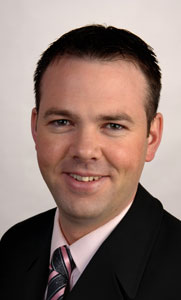 At 33, Councillor John Brady is the youngest candidate in the Wicklow constituency which includes parts of east County Carlow. He is a carpenter by trade.
The single event or issue which has influenced me most in becoming a political activist is...
Growing up on a council estate in Bray. I saw at first-hand the neglect by the state in areas like this. I grew up with friends who got caught up in drugs. Some of them are dead, others still addicts. There is little or no real help for them.
The person who has inspired me the most is...
Seamus Costello. Like myself, he is a Bray man. He stood up for what was right and for the ordinary man and woman.
I think people in power should pay more attention to...
The drugs epidemic, which has destroyed communities throughout the country.  
If there was one thing I could get done in Wicklow overnight it would be to...
Get a general hospital built here. We are served badly when it comes to the provision of health services, whether it's maternity, paediatrics or A&E.
One thing I've enjoyed in my constituency has been...
Working with a lot of community groups and sporting organisations over the years but one result was working with the St Fergal's Boxing Club in Bray. The club is the home of Katie Taylor, the holder of the world title in women's amateur boxing. The club was homeless and in the run-up to the world title Katie had to train in her kitchen! I have been working on their case for two years and recently secured a new premises for them.
The six famous people I think would be interesting guests at a dinner party are...
Che Guevara, Hugo Chavez, Nelson Mandela, Rosa Parks, Seamus Costello, Billy Connolly.
My most memorable book and TV programme...
Would have to be Bobby Sands's One Day in my Life. On TV, the documentary made at the time of the attempted military coup to overthrow Hugo Chavez in Venezuela.
My favourite musicians are...
Johnny Cash, Christy Moore, Moving Hearts. My favourite track would have to be Ordinary Man by Christy Moore. Favourite album is probably the 1981 Hunger Strike album.
In another life, I would probably...
Have more time at home with the wife and my four children but it is hard to think of anything else I get as much satisfaction from as empowering people and communities.