3 May 2007 Edition
Hundreds pay tribute at graves of fallen Volunteers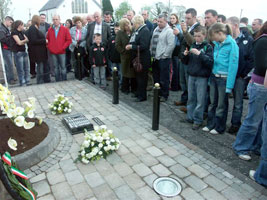 A tour of the graves of the eight IRA Volunteers killed in the Loughgall ambush of 1987 saw hundreds of people turn out to pay tribute to their sacrifice on Saturday, 29 April.
The Tour of the Graves, part of a series of events in the run up to the 20th anniversary of the Loughgall ambush, began in County Monaghan at the graveside of Volunteer Jim Lynagh on Saturday morning.
Sinn Féin Coucillor Colla McMahon chaired the proceedings and spoke briefly of his memories of the Loughgall ambush.
The crowd then moved to the grave of Volunteer Gerard O'Callaghan in Tullysaran. Here Councillor Paul Corrigan, a close neighbour and personal friend of Gerard chaired the event. He spoke touchingly about early childhood memories of his friend, of the days when they both found themselves in Crumlin Rd Jail and then of Gerard acting as Godfather to Paul's first son a couple of months before he lost his live in Loughgall. Tony Gildernew closed with his memories of Gerard on the Blanket Protest in Long Kesh.

Rapturous welcome
Councillor Phelim Gildernew chaired the commemoration at the graveside of Volunteer Pádraig McKearney in the Moy. Maura McKearney, Pádraig's 79-year-old mother received a rapturous welcome. Maura told the assembled crowd that Pádraig would be very proud at the size of the crowd who turned out 20 years on to show their appreciation for what the men had given in the cause of Irish unity.
In Edendork at the grave of Volunteer Paddy Kelly, Coucillor Barry Monteith called on Paddy's daughter Triona to say a few words. There was nobody present who wasn't deeply touched and moved by her emotional contribution.
The crowd which had by now grown to approximately 300 moved to Galbally where several hundred more people waited for the ceremony to start. Councillor Micky Gillespie chaired the commemoration in memory of Volunteer Declan Arthurs and Volunteer Seamus Donnelly.

Formation of revolutionary soldier
Brian Arthurs, Declan's brother spoke movingly of his brother and of his memories of them both attending a torchlight vigil in the Moy in 1980 whilst Tommy McKearney and his comrades were embarking upon the first hunger strike. He recalled the effect it had on both of them and many other young nationalists and in the area when their neighbour  Volunteer Martin Hurson died on the second hunger strike in July 1981. This was instrumental in forming the revolutionary soldier Declan was to become.
Seamus Donnelly's sister Collette recalled Seamus's love of Irish culture and his fondness for playing the banjo at sessions and parties around the area.
The crowd, now well over 500, moved on to Altmore and the graveside of Volunteer Eugene Kelly. John Joe Hagan's memories of Eugene touched everyone there. His dedication to the cause was spoken of and John Joe recalled the last time he had spoken to Eugene. It was just before returning to Long Kesh from compassionate parole. Eugene stopped to have a word when he met him on the road. Eugene's brother Gabriel gave his memories of Eugene as a brother and ended with his niece Cara-Rose playing a lament on the tin whistle.

Fitting tribute
Following refreshments in Galbally Community Centre the tour moved on to Aughnagar and the graveside of Volunteer Tony Gormley. Councillor Cllr Sean McGuigan recalled personal memories of Tony as a friend and neighbour since childhood. Tony's sister Marie spoke movingly and eloquently of her brother and the constant harassment he endured as a soldier of Óglaigh na hÉireann. She recalled how a week before Loughgall happened she seen Tony speaking to two men at her father's farm. When she enquired who they were Tony told her it was plain clothes policemen who had told him they wanted to see him before they shot him. This type of intimidation was par for the course for many republicans during the war throughout Tyrone and Tony shrugged it off as just another example of such behaviour. Little did any of them know what lay ahead.
Having concluded the Tour of the Graves the by now huge crowd moved across the road to the carpark of Aughnagar chapel where a beautiful and fitting tribute to all IRA Volunteers from the area had been erected by local activists under the auspices of the Tyrone National Graves Association.
Bronwyn McGahan, chairperson of the South Tyrone Comharile Ceanntair, Sinn Féin chaired this part of the commemoration and after two of Tony's brothers unveiled the monument, Danny Morrison former editor of An Phoblacht and former Sinn Féin Director of Publicity, gave an overview of the conflict during this period and recalled how he personally knew many of the families effected and how only for the daring of the Volunteers and ultimately their sacrifice none of what has developed since in the political spectrum would be a reality.
The hugely successful day ended with the playing of Amhrán na bhFiann and people made their way home with a mixture of sadness and pride which will live on in the hearts of those who knew the Loughgall Martyrs and indeed those who didn't know them personally but feel that they did. The stories of these brave and gallant soldiers will live on for generations to come.
Remembering the Loughgall Martyrs
Sinn Féin MP's Michelle Gildernew and Martin McGuinness have joined with the Loughgall Commemoration Committee to encourage republicans from Tyrone and all over Ireland to attend and support the weekend of events planned to remember eight IRA Volunteers and one civilian murdered by the British, undercover SAS on 8 May 1987.
Michelle Gildernew said: "This was a defining moment in Irish history. It is a day that is still one of sadness and hurt. Listening to the families over the last few weeks has been both an emotional and inspiring experience. We encourage everyone to attend and support this commemorative weekend. We commend the hard work of everyone involved in putting the weekend together."
Martin McGuinness said: "We extend our ongoing sympathies and solidarity to the families. I knew many of these men personally and will never forget the shock and anguish I felt when I heard the tragic news that fateful Friday night. The bravery, integrity, honour and selflessness of these men is a shining example to us all. Their sacrifice drives us on every day to deliver what they died for – a free and united Ireland."
The Loughgall Commemoration Committee have planned a series of events next weekend which have followed other events in recent days and weeks to mark the anniversary of the Loughgall ambush which saw the greatest IRA losses in any single incident since the Tan War.
Commemoration Committee

This year sees the 20th anniversary of the deaths of eight IRA volunteers of East Tyrone Brigade Óglaigh na hÉireann in Loughgall on the 8th May 1987.

Clár na hImeachtaí/Programme of Events
• Friday 4 May
Loughgall lecture: Loughgall in its military context, 9pm Ryandale Hotel, The Moy. Strictly ticket only. Taille £3

• Saturday 5 May
The Paddy Kelly Cup: Gaelic Football Tournament: Ladies' and Men's teams  in O'Neill Park, Dungannon.
Viewing of Loughgall DVD, 9pm Galbally Community Centre. Taille  £5

• Sunday 6 May
National Loughall Commemoration March: assemble 2.30pm, Galbally Community Centre. Guest speaker Brian Keenan

• Tuesday 8 May
Mass in Monaghan Cathedral, 8pm, for families and friends

Log on to the official website: www.loughgall20.com

For further information or ticket info contact
Ruairí at [email protected] or phone 07936 007 806