3 May 2007 Edition
1907 Dockers' Strike : New plaque unveiled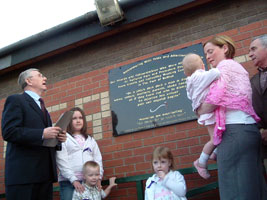 BY PEADAR WHELAN
Across the road from the Dockers' Club on Pilot Street in the Sailortown area of Belfast stands the decaying St Joseph's Church. Once the heart of a thriving community, the chapel which has been closed by the Catholic Church against the wishes of local people, represents the decline of a community once rich and vibrant with the families of men who worked on Belfast's Docks.
However the story of Sailortown and the dockers who lived there, cheek by jowl with Belfast Lough and its port, is not just a story of decline. It is a story of struggle and resistance from the time 100 years ago when Big Jim Larkin arrived north from Dublin to establish a branch of the Irish Transport and General Workers' Union. That was January 1907. In May 1907 Dockers and Carters were involved in a bitter dispute with their employers over pay and conditions. However the employers, represented by the Shipping Federation, jumped at the opportunity to smash the union. The British army was sent in and during rioting on the Falls Road shot two people dead.
This year, on the centenary of those momentous events, the Shared History Interpretative Project (SHIP) is to remember the lives and times of Belfast's Dock workers and their community. As part of their programme of events a memorial plaque commemorating the many dockers who have died, "as a consequence of unsafe and unhealthy working conditions in the port of Belfast", was unveiled last Friday. Poignantly the memorial was unveiled by members of the families of Jim Kelly and Alphonsus Weir who were killed on October 1995 as they unloaded cargo at Sinclair Dock. The pair were overcome by gas trapped in a pocket of the copra cargo, an animal feed derived from coconuts, they were unloading. They died instantly.
Liam Mac Broin of SHIP spoke to An Phoblacht on Friday 27 April after the unveiling ceremony and explained that those involved in the SHIP project had chosen Friday 27 April to unveil the plaque as it was International Workers' Memorial Day.
"We thought that to unveil the memorial on International Workers' Memorial Day would be appropriate as its theme has always been to 'Remember the dead and fight for the living'. So it is proper to remember those killed through work but at the same time fight to ensure that such tragedies are not repeated".
Also involved in the SHIP project is Sinn Féin's Martin Meehan. Meehan, a former docker, has a proud history of involvement in the ITGWU. His grandfather, Joseph Meehan, took over as Branch Secretary of the union after James Connolly when Connolly returned to Dublin. Connolly had moved to Belfast in the wake of Larkin's involvement in the 1907 to organise the workers.
Meehan stressed the importance of SHIP to developing an awareness of the conditions under which the dockers and their families existed.
"The employers were vicious in their treatment of the dock workers and their families but through the 1907 strike and their willingness to join the union, the workers showed they were prepared to stand up for their rights. SHIP is about remembering those times and commemorating the deaths of the many dockers who died because of the employers' ruthless pursuit of profit and lack of concern for the health and safety of the workers."