3 May 2007 Edition
Launch of Workers' Rights Policy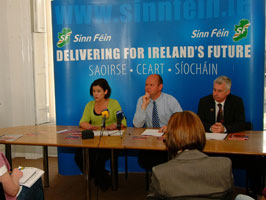 Launching Sinn Féin's new Workers Rights' Policy in Dublin last Sunday, Party Chairperson and Dublin MEP Mary Lou McDonald said the delivery of a strong, progressive workers rights' framework is a fundamental part of Sinn Féin's vision for Ireland and that the party wanted to work with others, particularly the Irish trade union movement to achieve this.
McDonald said there was an urgent need to address the plight of the new underclass of exploited workers which has emerged in Ireland.  These, she said, included low-paid service sector workers, migrant workers and vulnerable workers threatened with outsourcing and redundancy by employers determined to drive wages and conditions back down."
Dublin South West TD Seán Crowe pointed out that the policy advocated a number of recommendations to tackle this issue including a workers' rights awareness information campaign; proposals to strengthen the labour inspectorate and ensure it includes people proficient in the major migrant languages and increased penalties for violations.
"We are also proposing the introduction of a penalty point system to deal with 'rogue' employers and companies that consistently transgress employment law, which would result in the removal of such a company from the company register by the Companies Registration Office.
"Our policy proposes concrete measures to mitigate concerns around the issue of displacement, as well as the need to respect the rights of migrant workers", Crowe said.
Councillor Daithí Doolan said Sinn Féin had consulted within the trade union movement in the drawing up the policy and the party would continue to work with unions around issues of concern to their members.
"We will support trade unions and workers fighting for better conditions, battling against the privatisation of public sector companies or campaigning to improve public services", he said.