3 May 2007 Edition
Dáil General Election Profile: Eoin Ó Broin, Dún Laoghaire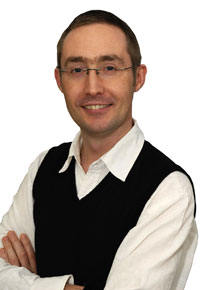 A native of Cabinteely and Blackrock, Eoin Ó Broin (35) is Director of European Affairs for Sinn Féin and editor of the acclaimed magazine, Left Republican Review.
The people who have inspired me the most are...
The republican political prisoners in Long Kesh and Armagh during the 1970s and 1980s.
Reading Lawrence McKeown's Nor Meekly Serve My Time and Out of Time reminds me what an inspiring group of men and women these political prisoners were. No matter what confronted them they used their commitment, imagination and ingenuity to overcome the government's policy of criminalisation and dehumanisation.
Their experience of collective organisation and self-empowerment offer many lessons for those of us politically active today.
I think people in power should pay more attention to...
The issue of equality. Inequality, discrimination and social exclusion are part of the fabric of everyday life for hundreds of thousands of people in Ireland.
Mainstream politics ignores issues like poverty, sexism, racism and homophobia. Only when ordinary people become mobilised on such issues will our political system pay real attention and take more action on bringing these social problems to an end.
If there was one thing I could get done in Dún Laoghaire overnight it would be to...
Get Dún Laoghaire/Rathdown Council to build 500 new social houses as the first step in a radically revised housing strategy for the area.
The six famous people I think would be interesting guests at a dinner party are...
Writers Roberto Mangabiera Unger and Beatrix Campbell, musician Tom Waits, painter Frida Khalo, activist Hanha Sheehy-Skeffington, and writer and activist Peadar O'Donnell.
My most memorable book is...
Donald Sassoon's One Hundred Years of Socialism: The Western European Left in the 20th Century. It outlines the great strengths and weaknesses, successes and failures of European socialism over the last 100 years, knowledge which is essential for the future of socialism in the 21st Century.
My favourite music track is...
World Turned Upside Down, by Dick Gaughan or Billy Bragg. It was the first vinyl I bought and the lyrics, based on the Christopher Hill history of early English radicalism, is both inspiring and tragic.
In another life, I would probably be...
A professional skateboarder with the freestyle skills of Rodney Mullen and the half-pipe range of Shaun Whyte.