3 May 2007 Edition
Investment in primary education a key priority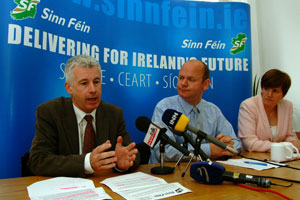 Sinn Féin Education Spokesperson Seán Crowe TD has said that investment in primary education would be a key priority for Sinn Féin in government.
"Education is a basic human right. It should be free and universally available as of right. Government policy has entrenched educational inequalities and a two-tier system.  Educational expenditure is one of the lowest as a percentage of income," Crowe said.
"More than one in four primary school pupils are being taught in overcrowded classrooms.  Many are taught in run-down facilities and too many children still go to school hungry. An estimated 1,000 students per year do not make the transition from primary to secondary education.  Meanwhile, taxpayers pay €80 million per annum to subsidise the private education system, even though the children of the majority will never have a chance to attend these exclusive fee-paying schools," he said.  
In government, Sinn Féin would reduce class sizes for primary school children under nine to a ratio of 20 children per teacher.
"When this target has been met, Sinn Féin will continue to implement this policy throughout the primary school system. This will require huge planning in terms of the training and recruitment of teachers and the provision of additional classrooms," Crowe said.
"Population growth in Dublin and surrounding counties has mushroomed in recent years. Due to a lack of integrated planning, thousands of children are in overcrowded schools without proper resources or satisfactory school buildings.
"In government, Sinn Féin will work to deliver sufficient school places for all pupils wherever they live.  We will recruit more teachers and increase school building construction.  We will also eliminate the use of prefab classrooms within the lifetime of the next Dáil.  No substantial development should be allowed to go ahead without the necessary infrastructure, including schools and playgrounds, being included," said the Dublin South West TD.
Sinn Féin priorities in government for primary education
•     Increase funding per pupil at pre-school and primary level so expenditure will be more equal to that at third level, ensuring schools in areas of high disadvantage receive proportionately more funding and resources.
•     Reduce all class sizes for children under nine to a maximum of 20 pupils, as promised by Fianna Fáil/PDs in their Programme for Government in 2002.  Extend this throughout the primary school system.
•     Legislate, plan and budget for immediate upgrading of substandard schools and building of premises where required.  Ensure the practice of educating children in prefab buildings is eliminated within the lifetime of the next Dáil.
•     Introduce a standard statewide school breakfast and lunch programme to supply nutritious food free of charge to schoolchildren.
•     Provide adequate funding for the National Education Welfare Board, to increase the number of Educational Welfare Officers, to combat school absenteeism and low attendance.
•     Introduce a new emphasis in the school curriculum at primary and secondary level on civic education, the rights and responsibilities of citizenship and encouragement of voluntary activity across society.  Education needs to prepare children for life and encourage creativity and human thought and should not just be about providing the next generation of workers.
•     Fund appropriate supports within mainstream classrooms for children with special needs. This should include adequate provision of special needs assistants where required.
•     Improve training for ESL teachers and remove caps on the number of language support resource hours.
•     Improve provision of Naíscoileanna and Gaelscoileanna.
•     Teach a second subject through Irish at primary school level, such as PE, music or drama.