3 May 2007 Edition
General Election : Seeking a mandate for real change and equality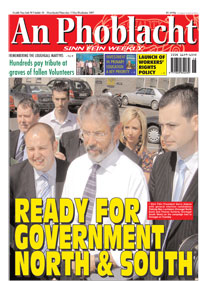 Sinn Féin enters general election in strongest position ever
With the announcement last Sunday that the 26 County general election will be held on 24 May, Sinn Féin President Gerry Adams said that the party would go into the election campaign in a stronger position than ever before.
"We will be campaigning the length and breadth of the country seeking a mandate for real change and equality. Our objective is to be in government, North and South and to deliver strong public services and to advance the peace process and preparations for Irish unity", he said.
Adams said Sinn Féin believed in the right to universal access to decent healthcare, education and childcare, the constitutional right to a home, and in building the economy and using the wealth created for the public good.
"We believe in Irish re-unification and are advancing preparations to bring this about as soon as possible. These are our priorities for government", Adams said.
Over the past decade, republicans had proven their ability not just to negotiate successfully to advance the peace process but also to show leadership by taking major and sometimes difficult decisions in the national interest, the Sinn Féin President said, adding that Sinn Féin's five Government Ministers in the new Six County Executive would work hard in the interests of everyone on the island.
Sinn Féin Dáil leader Caoimhghín Ó Caoláin TD said:
"During the coming weeks of the election campaign we will reap the rewards of years of hard work and commitment by our candidates and party activists. In doing so we are seeking endorsement from the people for our radical and relevant policies.
"Real change and equality for all the Irish people is Sinn Féin's election focus.
"We are campaigning for premium public services in health, housing, education, transport and childcare to be available to all on the basis of need.
"We are campaigning for the peace process and the all-Ireland agenda to be advanced across Ireland with a new Government in Dublin linking up with a new Executive in Belfast for the benefit of all who share this island.
"We are campaigning against the bankrupt policies of the outgoing Fianna Fáil/PD Government which has failed abysmally over the past decade to use unprecedented economic prosperity to create a more equitable society. Instead they have widened the gap between the very wealthy and the rest. Their privatisation agenda is damaging public services, above all in our health system.
"We are standing on the record of our five TDs who have provided effective leadership and representation nationally and in their constituencies. They have presented the Sinn Féin alternative to the jaded and discredited policies of the Fianna Fáil/PD Coalition. They have exposed the contradictions within and between the so-called main opposition parties of Fine Gael and Labour – the Coalition of the Confused.
"Sinn Féin is offering voters a real choice in this general election.
"We are presenting our vision of an Ireland of Equals.
"We are setting out our ideas for a prosperous country in which wealth is shared and where the promise of equal rights and equal opportunities is fulfilled for each and every person who lives on our island.
"We are affirming our republican commitment and presenting our strategy to achieve a United Ireland of Equals."
On Tuesday, 1 May Sinn Féin Chairperson and candidate for Dublin Central Mary Lou McDonald and party candidate for Dublin Mid West Joanne Spain announced details of a major constituency tour by the party's leadership which will see visits to 29 constituencies over six days.
McDonald said "Sinn Féin is seeking a mandate to be in government to deliver a strong and equal economy, strong public services and advance the peace process.