19 April 2007 Edition
Sinn Féin meets Policing Board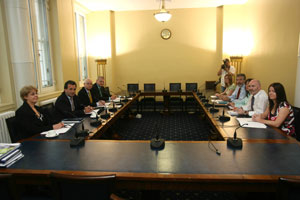 A Sinn Féin delegation led by the party President Gerry Adams MP and including Assembly member Jennifer McCann, Dublin Mid-West representative Joanne Spain and the party spokesperson on Policing issues Alex Maskey met with the Chairperson of the Policing Board Des Rea in Stormont on 16 April.
Speaking after the meeting Adams said that he would propose to the party Ard Chomhairle after the political institutions went live on 8 May that Sinn Féin would participate in the reconstituted Policing Board and DPPs. He stated:
"Sinn Féin wants to see accountable policing across this island. That means transparent, robust and democratic accountability mechanisms like the Policing Board for An Garda Siochana as well as the PSNI. The decision by the special Ard Fheis in late January was only the start of a process of ensuring that the sort of accountable and representative policing service demanded by the Good Friday Agreement is delivered.
"We used today's meeting to discuss in some detail issues such as accountability and the representativeness of the current policing structures, the issue of plastic bullets and collusion.
"The Ard Fheis motion commits Sinn Féin to holding the police to account on the basis of fairness, impartiality and objectivity. That means legitimate criticism and challenge if particular actions by the police do not come up to the mark. People across society want a policing service which works with the community in effectively tackling crime.
"Sinn Féin is determined to get policing and justice right. We have been mandated by the Ard Fheis to drive forward this agenda. It is our intention and determination to do that."