12 April 2007 Edition
Letter to the Taoiseach
BY BARRY McELDUFF
Did you know that Wednesday, 4 April was the 93rd Anniversary of the founding of Cumann na mBan?  This fact hit me up the face when I walked into the Cultúrlann in Belfast to help launch Sinn Féin's Education Programme for party activists in the City.
Bertie, who defines which commemoration is the 'official' commemoration of the 1916 Easter Rising?  The Irish Times attributes that honour to yourselves and the organisers of the wreath laying ceremony outside the GPO which was attended by 350 members of the Free State Defence Forces.  I would beg to differ.
As I write to you, I am on my way to Inniskeen, County Monaghan to address the official commemoration there in honour of Ireland's patriot dead.  I will listen intently to the words of the Proclamation which will be read out there as it will be at hundreds of locations throughout Ireland.
Easter has always been very important to me, Taoiseach.  Growing up in Carrickmore, the two biggest days of the year were Easter Sunday and County Final Sunday, should Carrickmore qualify for same.
It could rain, hail or shine at Easter.  It has even snowed.  Irrespective, Carrickmore was also resplendent with green, white and orange. Early morning house raids by the RUC and British Army were always an important feature of Easter Sunday morning.  They would pick on the usual suspects and sometimes they would branch out and extend the privilege of the 5am knock to an unsuspecting family.  
To cut to the chase, the highlight of Easter Sunday for us was always the IRA Colour Party.  Óglaigh na hÉireann to you and me.  As young people, we always wondered who was behind the mask.  I hope I'm not annoying you, Bertie.  It is just the way we were reared in parts of rural Tyrone.
Moving swiftly on before you report me to the IMC, I was appointed Cathaoirleach of the Statutory or Scrutiny Committee for Culture, Arts and Leisure at Stormont.  I would welcome any advice you might have in this area.   If you could, put a word in the ears of John O'Donoghue and Eamon O'Cuiv that I would like to meet them without delay.
Briefly, for your attention, I will set out my stall.  I am going to prioritise the issue of an Irish Language Act in the North.  It was an act of bad faith on the part of the British Government that they did not legislate for this in Westminster, choosing instead to lob it into the realm of the Assembly.  As well as that, I am anxious to ensure that the GAA will receive proper financial support and investment from the Department of Culture Arts and Leisure (DCAL).  
Very often, the community digs deep into its pockets to provide Gaelic Games infrastructure and can be taken for granted.  I know that I will have Francie Brolly's support for this, a man who would show up on a cold, wet Sunday in December if Derry were playing away in the National League
Taoiseach, I'll sign off for now.  As I said earlier, I just pulled in to the side of the road on my way to Inniskeen. Tomorrow brings me to Sligo where we shall commemorate Sligo's Noble Six from 1922 as well as Volunteer Joe McManus.  I am following in good footsteps because Mairéad Farrell spoke at this Easter Commemoration in 1987.  On Monday, I head for Armagh City and possibly even South Armagh.  How would you handle South Armagh if you were sent to address the people there?
You would have been a great supporter of Frank Aiken, wouldn't you, Bertie?
Is Mise,
Barry McElduff
NB: Bertie Ahern can be contacted on (00 353) 1 619 4020 or e-mail
[email protected]
  Address: Office of the Taoiseach, Government Buildings, Dublin 2.
An Phoblacht Magazine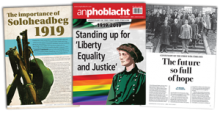 AN PHOBLACHT MAGAZINE:
Don't miss your chance to get the first edition of 2019 published to coincide with the 100th anniversary of An Chéad Dáil and Soloheadbeg.
In this edition Gerry Adams sets out the case for active abstentionism, Mícheál Mac Donncha takes us back to January 21st 1919, that fateful day after which here was no going back and Aengus Ó Snodaigh gives an account of the IRA attack carried out on the same day of the First Dáil, something that was to have a profound effect on the course of Irish history.
There are also articles about the aftermath of the 8th amendment campaign, the Rise of the Right and the civil rights movement.