12 April 2007 Edition
Shannon : Call on youth to consider Iraq war issue when voting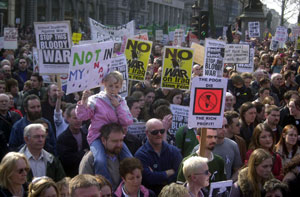 Youth wings unite to demand US military out of Shannon
Three of Ireland's party political youth wings have united in a call for a US Military withdrawal from Shannon airport. Ógra Shinn Féin has said that as part of its anti-imperialist campaign ARISE, it has engaged in broadening opposition to imperialism.
In a joint statement this week Ógra Shinn Féin, Labour Youth, and the Young Greens said:
"Labour Youth, Ógra Shinn Féin and the Young Greens today jointly reiterate their call for a full and complete US military withdrawal from Shannon airport and all Irish airports. Four years after the start of the US led war in Iraq the death toll stands at hundreds of thousands. The authority of the United Nations has been damaged, the primacy of international law undermined and Iraq teeters on the brink of civil war. The United States' illegal war has proven as ill advised as it has damaging to international relations and the Human Rights of the Iraqi people.
"The Irish government has facilitated that conflict through the provision of military facilities and refuelling services at Shannon. Whilst this contribution is not instrumental, it has involved the Irish State in an illegal, unnecessary and unethical war, compromising our neutrality and providing an endorsement for the war, instead of joining other countries in condemning it as an affront to the concepts of peace and democracy which lie at the heart of Irish society, our government has allowed itself to become complicit in aiding the criminal actions of the US Government.
"Today Ógra Shinn Féin, Labour Youth and the Young Greens stand together in calling on the Irish government to permanently deny access to Irish air and port facilities to the United States military or any other military force engaged in the illegal and ill advised conflict in Iraq. We also call on our associated parties to live up to their commitments on this issue and to maintain their dedication to Irish neutrality, opposition to war and positive engagement with the International community should they enter government.
We are also calling on the young people of Ireland to consider these issues when casting their ballots in the upcoming general election and to vote for candidates who support the policy of ending the use of Irish airports by the US military.