12 April 2007 Edition
Women's role in freedom struggle highlighted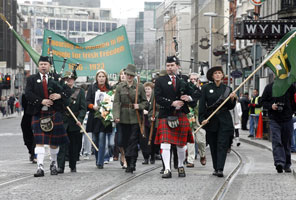 The role of women who fought in the 1916 Rising, the Tan War and the Civil War was highlighted in Dublin on Easter Monday last in ceremonies organised by the Dublin North Inner City Folklore Project at Liberty Hall and the GPO.
It is estimated that 800 women served with republican forces during the conflicts between 1916 and 1923.
At 12 noon on Easter Monday, 9 April, a replica of a flag hoisted by Molly O'Reilly of the Irish Citizen Army at Liberty Hall in 1916 was raised by Molly's niece. Women dressed in period costume and uniforms then lead a parade from Liberty Hall to the GPO for a wreath-laying ceremony and short addresses by contemporary women activists and descendants of the women who served from 1916 to 1923.
The community-based event was non-party political.
Speaking before the event, Bernie Walsh, whose grandmother was a member of Cumann na mBan and also a friend of Countess Markievicz, said the aim of the event was "to honour not just the famous but the not-so-famous.
"Women from 1916 to 1923 had to fight not just the might of the British Empire but for their place in history in a society where male domination was more prevalent than even today.  Nevertheless, many women and girls played their part in the struggle for Irish freedom, the ideals enshrined in the 1916 Proclamation and an Ireland that cherishes all its children equally.
"We remember those unmanageable revolutionaries and we are asking all their relatives and descendants to join us in paying tribute to them."
Sinn Féin candidate for Dublin Central Mary Lou McDonald MEP attended the commemoration and speaking afterwards she said:
"With the exception of Constance Markievicz, the role of women in the 1916 Rising was largely forgotten for many years. It is estimated that out of a total of 1,600 people involved in the 1916 Rising up to 220 were women. 77 women were imprisoned in Kilmainham Gaol in the aftermath of the rising. Some were members of the Citizen Army while others were in Cumann na mBan. Women participated in the Irish Citizen Army on an equal basis with men and Constance Markievicz, Helena Moloney, Madeleine ffrench-Mullen and Dr Kathleen Lynn were prominent in the Citizen Army during Easter week.
"Among the last people to leave the GPO were Cumann na mBan members Winifred Carney, Julia Grenan and Elizabeth O'Farrell. Julia Grenan was a dispatch carrier during Easter week and brought information from the GPO to garrisons around the city. Elizabeth O'Farrell was chosen by Padraig Pearse to bring the surrender documents to the various garrisons to signal the end of the Rising.  I welcome the decision of Dublin City Council to unveil a plaque honouring Elizabeth O'Farrell in City Quay Park earlier this year.
"It is important that these women and the many others who played such an important role in the Rising are afforded their proper place in Irish history.  As we begin the countdown to the 100th anniversary of the 1916 Rising I hope that a particular emphasis in placed on the role of  women in the Rising and the impact that this has had on women's rights since then.  It is also important that the Ireland for which they fought is delivered."