12 April 2007 Edition
Dáil General Election Profile : Jonathan O'Brien, Cork North Central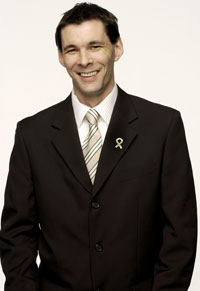 'We breed heroes down here in Cork'
The people of Cork are very exacting when it comes to their local representatives. Sinn Féin, therefore, is on the up and up. COUNCILLOR JONATHAN O'BRIEN (32) is Sinn Féin's representative in Cork North Central. He is ten years married to Gillian and has four children: Ryan, Aoife, Naoimh and Connor. An Phoblacht's PHILIP CONNOLLY learns that Cork is, without doubt, Ireland's true capital, punk is culturally superior to pop, and that the United States may not have landed on the moon after all.
So how do you spend your leisure time?
I'm a big sports fan. Myself and my young lad, Connor, who's 12, go to lots of games. He is a huge GAA fan, as I am, but we're heading up to watch Cork City play St Pat's in the Setanta Cup tomorrow night. We love the soccer but hurling would be the most popular sport in our house. It's just more exciting. John Gardiner and Sean Óg are from around here and they would be bigger heroes to the kids here than cross-water soccer stars.
We have an embarrassment of riches in sporting heroes in Cork. We breed them well down here!

What was the last book you read?
It was a book called Space Race, by Martin J Collins. It was about the space race between the USSR and the US in the 1950s.
When they were carving up Germany after the Second World War, there was a huge drive to get the German scientists to join up with the two super powers. The Americans thought they were way ahead in the technology stakes but they were caught out very badly when the Russians launched the first satellite.
It's an excellent book. I thoroughly enjoyed it and, if I were to be honest, I would be quietly sceptical as to whether or not there actually was a US moon landing.

What CD do you have in your player at the moment?
Gift Grub. I think it's hilarious. Very clever.
Musically, I'm a big fan of Depéche Mode, The Cure, Madness and The Smiths. I have every Depéche Mode album that was ever released.
I was into punk in my youth and I think the music of the punk era and the '80s post-punk is so much better than pop or rap. I'm not into boy bands and I really don't care for rap at all.
The Smiths and bands like that were just so exciting and still have massive appeal today.

Which person do you most admire?
That's a tough question – I have so many. When I think on a grand scale I would have to say people like Nelson Mandela and Che Guevara. But on a personal level it would be my father and my mother.
They were bringing up kids in very tough times during the 1980s. It is very inspiring to think of all that they sacrificed so that their children could be the very best that they can be. I think they done a great job of it. I have one sister and one brother and none of us have disappointed them (as far as I can see).
There were so many families in the same predicament and every one of them are heroes to me.

What do you love most about Cork?
The people.
I think we are the most parochial people in Ireland, and I mean that in a good way.
We will always defend our own, no matter what. I can't find fault with that!
The people of Cork firmly believe that Cork is the rightful capital of Ireland. We are the sporting capital, the cultural capital and we are also the spiritual capital!
I love the fact that you can be standing in the city centre, with a real city buzz, in a modern bustling place and just take a ten-minute drive and you're in the countryside. I absolutely love that about Cork.
It has a unique character: we have our own flag, we have our own dialect. If someone from outside of Cork listened to two Corkonians talking on the street they would be hard pushed to understand them.    

How did you become involved in Sinn Féin?
I joined ten years ago. I have always had an interest in politics.
Although neither of my parents was involved in politics they always instilled a social conscience in us. My uncle was in Fianna Fáil and later went to the PDs. But when I was young I used to talk to him about what was going on and how things are run and I think it was that and the 1981 Hunger Strike which got me involved in politics.

What are the big issues on the doorsteps in Cork for this election?
The biggest issues are health and crime. In North Cork we lost the North Infirmary years ago and are now serviced by a hospital on the southside of the city. We have no A&E or full-time cardiac response unit. We are talking about an area of 80,000 people.
We have no dedicated ambulance service on the northside. During rush hour you could be talking an extra 10 minutes getting across the city. With a cardiac arrest or something of that nature, it can mean the difference between life and death. We need a permanent, dedicated ambulance service on the northside of the city.

What about public safety and crime?
The problem of crime in Cork is real in terms of nuisance crime. Years ago we used to kick football at the side of a house and it was a social thing. Now it's treated as a nuisance crime.
Much of the problem is anti-social and there are lots of solutions out there to take care of it. I don't believe ASBOs are going to make any real difference.
In terms of muggings, murder and mayhem, it may apply to parts of other cities but there is a tendency for Fine Gael and the PDs to treat it as a pandemic.

What difference do you think Sinn Féin will make to the city of Cork?
In 1999 we had one candidate elected and a second elected in 2004. Our membership is snowballing. The goodwill to the party is immense and it's down to the work done by the party locally.
The Peace Process is a positive thing and that has helped us, but people vote for the parties that prove themselves and that they meet every day. Sinn Féin are a party who come from the community. We live in the community, inter-acting everyday with the ordinary people of this city.
We know the issues because we face them the same as everyone else. I have the same problems as the next-door neighbour. We are rooted in the community and we have our feet firmly on the ground.
I want people to use their vote to change things because your vote has an added value to it and it becomes a valued commodity – especially by those politicians  who ignored you before – because it is bringing about a change in your community and some change in the quality of life.

An Phoblacht Magazine
AN PHOBLACHT MAGAZINE:
Don't miss your chance to get the second edition of the 2019 magazine, published to coincide with Easter Week
This special edition which focuses on Irish Unity, features articles by Pearse Doherty, Dr Thomas Paul and Martina Anderson.
Pearse sets out the argument for an United Ireland Economy whilst Pat Sheehan makes the case for a universally free all-island health service.
Other articles include, 'Ceist teanga in Éirinn Aontaithe', 'Getting to a new Ireland' and 'Ireland 1918-22: The people's revolution'.