12 April 2007 Edition
Dwyer exposes massive Wexford waste scandal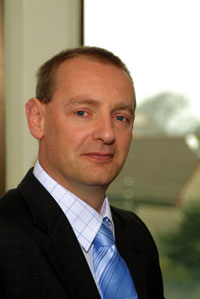 Sinn Féin's Wexford general election candidate Councillor John Dwyer has this week slammed the practice of importing sludge from waste treatment plants to be spread on Wexford farmlands.
In conjunction with other environmentalists from Co Wexford, Cllr Dwyer uncovered a massive dumping operation which is allowed under a legal loophole know as Nutrient Management Plans.
Speaking on to An Phoblacht on Wednesday following an apology to the people of Wellingtonbridge issued by Wexford County Council's Director of Services for the way the council had imposed upon them with the method of spreading, Cllr Dwyer stated:
"This entire scandal is at the very heart of double standards adopted by local authorities across Ireland.    As a legal method of disposal of human waste, the government created a system whereby human waste and other toxic substances are legally spread without the need to consult with or even inform those who will be exposed."
Explaining how this scandal was dealt with by Wexford County Council, Dwyer said:
"When Wexford County Council allowed the importation of hundreds of tonnes of sewage sludge from Ringsend in Dublin and then granted permission to land owners to spread the substance in the vicinity of a local village in County Wexford, the council had not broken any law!
"When the County Council take sewage sludge from its own treatment plants in County Wexford and combine it with toxic leachate from the counties dumps and allows landowners to spread it right up to the back door of people's homes, they have still not broken the law. In spite of the total opposition of Wexford's population, our County Council appear hell-bent on proceeding and Sinn Féin will continue to oppose this scandal."
Dwyer confirmed that he had raised the issue at this month's County Council meeting on Wednesday and that he was met with a barrage of personal insults and snide comments coupled with total indifference from some senior officials of Wexford County Council.
"We will not be silenced on this matter. I have already spoken to many of the residents of one of the 16 sites chosen to spread this hazardous material and our campaign will continue so as to prevent this disgraceful practice into the future.   A complaint to the European Commission is an obvious next step", Dwyer said.He added that serious questions remain following the heated discussion at yesterday's county council's meeting.