12 April 2007 Edition
1916 - 2007 Easter Commemorations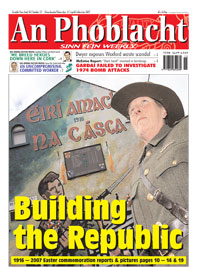 ANTRIM
Belfast
Thousands lined the Falls Road in West Belfast on Easter Sunday last to commemorate the 91st anniversary of the 1916 Easter Rising and to honour the memory of Ireland's patriot dead.  
Led by the Felons Pipe Band the parade made its way from Beechmount Avenue to the Republican Plot at Milltown Cemetery.
A smartly turned out colour party preceded a line of people carrying paintings of the executed leaders of the 1916 Rising. Onlookers cheered as members of the Ballymurphy Ex-Prisoners Association passed by wearing period uniforms of the Irish Volunteers, Irish Citizens' Army and Cumman na mBan.  
They were followed by a large turnout of republican Ex-Prisoners and no less than three additional republican pipe and flute bands, including the Sean McIlvenna RFB which had travelled from Glasgow especially for the event.  
Relatives of fallen IRA Volunteers proudly carried photos of their loved ones in a particularly touching tribute.
At Milltown the main address was delivered by Sinn Féin Assembly member for North Belfast and junior Minister Designate in the Six County Assembly Gerry Kelly.
Kelly paid tribute to those who died in 1916 and the generations since.
He continued: "For me, it has that extra personal poignancy because I knew many of those volunteers who gave their lives on the streets of Belfast in this phase of our long struggle for freedom.
"Easter week 1916 was one of the greatest historical events of the last century.  It started the bush fire of decolonisation, which was to engulf what was the then British Empire.  It inspired generations of Irish republicans and peoples throughout the world who rose up against the tyranny of colonial rule, imperialism and oppression.  It is a fire still burning in the heart of every republican."
Referring to recent momentous political developments Kelly said: "When we met last Easter how many thought they would see Dr 'No' become Dr 'Yes'.  Who would have taken a bet on the Assembly, on the all-Ireland institutions going up, or imagined that iconic photograph of Gerry Adams and Ian Paisley speaking off the one hymn sheet about power-sharing and Irishness?
"If people had to rub their eyes or rub their ears or listen to the statements twice in disbelief then let that be an indication of the Rubicon which unionism has crossed."
Kelly said politics was not just about winning seats or achieving ministerial posts.
"Sinn Féin is a party born in struggle with our membership and elected representatives coming from the communities most under the strain of political and economic oppression North and South. We understand and reflect the needs of people struggling to survive in their daily lives. That understanding and connection with our community is the bedrock of our struggle."
He said Sinn Féin was about radical political change throughout the 32 counties. "Just as we are ready for political power in the North we are also ready for government responsibility in the South", he said adding that being in government in both parts of Ireland was a means to bring about a national republic and a national government."
Republican commemorations also took place over the Easter weekend in the Greencastle, Carrick Hill, New Lodge, and Ardoyne areas of Belfast.
ARMAGH
Iniskeen
There were large attendances at Easter Commemorations across County Armagh this year. In Iniskeen, those present were told by Sinn Féin MLA Barry McElduff, that now was the time to make partition history.
"This is a time of great hope and opportunity" said McElduff adding: "We are closer than ever before to ending British jurisdiction and bringing about Irish unity and sovereignty and national reconciliation among all the people who share the island".
Mullaghbawn
In Mullaghbawn Louth TD Arthur Morgan told what was described as one of the biggest attendances for many years: "Let the coming decade be the decade of Irish Unity. The best way to celebrate the spirit of Easter 1916 is for all of those who are committed to Irish reunification, regardless of party political affiliation, to work together for that worthy and achievable goal".
Crossmaglen
In Crossmaglen, Sinn Féin MLA Francie Molloy saluted the discipline and the commitment of republicans throughout Ireland over the last twelve months, particularly the Volunteers of Óglaigh na hÉireann. Francie extended solidarity to the families, friends and comrades of all those who died during the fight for Irish Freedom. He said that this was a golden opportunity to advance the peace process.
"This has been a big year for republicans. Today we are shaping history once again," he said. Francie also addressed the Killean and Cullyhanna commemorations where he welcomed particularly all those involved in the '50s campaign.
Camloch
Local Councillor Turlough Murphy speaking at the Camloch commemoration said Sinn Féin was an all-Ireland party.  "We are the only party with elected representatives in every forum on this island" said the Sinn Féin elected representative and he continued; "However that is not enough. We need to build the party.  We need to open our party to more and more women and young people and to those who have made Ireland their home in recent years.  And we need to build greater political strength and support"
Ballymacnab
Sinn Fein Councillor Pat McGinn said: "The British Government needs to start acknowledging its role as a protagonist in the conflict and deal with the reality of the more than 1,000 victims of collusion and state violence when dealing with victims'.
He continued by stating "There has to be equality of treatment for all victims and survivors and an end to discrimination against victims of state violence and collusion.
Sinn Féin will continue to stand with the victims of state violence in their campaign for the truth.
Wreath laying ceremonies took place in Lislea, Keady, Tullysarron and An Port Mor.
Commemorations also took place in Armagh City and Belleek on Easter Monday.
CORK
A large turnout at Easter Commemorations across County Cork, illustrated the continuing growth in support for republican politics across the county.
In Youghal in East Cork, Bairbre de Brún MEP told the large attendance "Tá cuimhne orainn inniu chan amháin orthu siúd a fuair bás i 1916 ach ar na fir agus na mná a rinne an íobairt céanna i ngach ghlún ó shin go dtí an lá atá inniu ann.  Ní féidir linn ómós níos fearr a dhéanamh do laochra na hÉireann ná brionglóid Fhorógra 1916 a bhaint amach - Éire aontaithe a bheith ann, saor ó bhun go barr agus achan duine inti ar bhonn cothrom."
Other commemorations in East Cork included Mallow and Cobh where the oration was given by Sandra McLellan who is the Sinn Féin candidate for Cork East. 
Cork City and West Cork
Newry/Armagh MP and Minister Designate for Regional Development in the Six County Assembly Conor Murphy addressed commemorations in Clonakilty, Bandon and Cork City where he told those in attendance "We now have the opportunity to put the ideals of 1916 centre stage in Irish politics.  What better tribute to the memory of those we honour here today than the full attainment of our national independence and the creation of an Ireland of equals? That is our task."
Henry Cremin who is the candidate in Cork South Central chaired the Cork city ceremony.
Jonathan O'Brien who is standing in Cork North Central said: "This generation of republicans is seeking to build a new Ireland and a republic based on the proclamation, which unites people rather than divides them, which ensures that our parents and our children have access to good healthcare and other state services irrespective of their income."
The Clonakilty Commem-oration was held in brilliant sunshine at the Tadhg an Astna Monument on Easter Sunday.
Cathaoirleach was Clonakilty Town Councillor, Paul Hayes, who remembered a number of people who had been regular attendees at the commemoration over the years, who had died in the last 12 months.
Newry/Armagh MP Conor Murphy, said he was delighted to be in historic rebel West Cork whose history is so similar to his own area.
"A place that had fiercely resisted British occupation and tyranny, with ordinary people joining the IRA in the fight. While these struggles happened at different times in recent Irish history, they were nonetheless part of the same struggle – to rid Ireland of the British military and government presence. Recent historic developments mean that a United and free Ireland is now closer than ever. He reminded those present that it must also be an Ireland based on equality and justice for all people living in the country, as proclaimed in the Easter proclamation', he said.
In Bantry Councillor Cionnaith Ó Súileabháin, the candidate for Cork South West addressed the Commemoration.
DERRY
Glorious sunshine greeted the thousands of republicans who marched to the Republican plot in Derry on Easter Sunday last.
Lead by a smartly turned out colour party the parade made it's way through the Bogside, Brandywell and Creggan areas and into the picturesque City Cemetery which overlooks the Foyle basin.
On arriving at the Republican Plot, marchers who carried portraits of Derry's fallen Volunteers and other deceased republican activists lined up behind the graves.
Sinn Féin vice-President Pat Doherty delivered the main oration.
In his address Doherty spoke of how he had a long association with Derry and that he first become involved in republican politics through contact with Derry republicans. He also recounted how he stood in Derry's cemetery on the morning that the dead of Bloody Sunday were buried.
Doherty then reflected on the progress republicans and republicanism had made in the intervening years and how Sinn Féin had become the largest nationalist party in the North and a growing party throughout the 26 Counties.
DONEGAL
Donegal Town
Local Republicans gathered at Clar graveyard in Donegal Town last weekend to honour those who fought and died for Irish freedom.
The Drumboe Martyrs Cumann, Donegal Town, organised the commemoration at the graves of William Deasy and Michael McCanny, killed in 1923 in a clash with Free State forces. A wreath was laid and the Proclamation of the Irish Republic read.
An appeal was made for the community to get behind the Sinn Féin candidate, Pearse Doherty, in the upcoming election. A spokesperson commented: "The continued growth of Sinn Féin will assure the realisation of the 1916 Proclamation".
Drumboe
Addressing the large number of republicans from Donegal and West Tyrone who attended the annual Easter Drumboe Commemoration in Stranorlar on Sunday, Mid-Ulster Sinn Féin MP and Deputy First Minister Designate in the Northern Assembly Martin McGuinness said that he believed that the countdown had begun to Irish Unity. In a wide-ranging speech in which he outlined the positive dynamic of recent political events he said:
"As the process progresses, more people are recognising that we have now entered the end phase of our struggle. I truly believe that we have begun the countdown to a united Ireland, and we are continuing to get that message out as widely as possible.
"But Sinn Féin is the only party with the courage to say it aloud, and encourage proper management of the transition.  Denying the obvious will serve no purpose, other than to give false hope to those wishing it were not so.
McGuinness went on to say that in recent times, other parties in the 26 Counties had been anxious to show their united Ireland credentials but while this was welcome, he said rhetorical republicanism at election time would fool nobody.
"If they are serious about their aspirations for a united Ireland, then I challenge them to join with us and with like-minded campaign groups, trade unions and other interested sections of our society to create an alliance for Irish unity,"
"The potential to progress an all-Ireland strategy for ensuring full implementation of the Good Friday Agreement is tremendous.
"Those who attempt to interpret our participation in implementing the Agreement as a dilution of our determination to achieve Irish unity and independence could not be more mistaken."
The Sinn Féin MP said that, as republicans entered the final lap in the journey towards a united Ireland, they must try to understand the anxieties of unionists for whom such change was a terrifying prospect.
DOWN
Newry
There was a special welcome for Sinn Féin MLAs Mickey Brady and main speaker Mitchell McLaughlin at the Newry Easter commemoration. McLaughlin told the huge crowd "In January tens of thousands of republicans the length and breadth of Ireland were involved in the debate on the way forward on policing. And recent weeks saw the first meeting between our party and the DUP. This historic engagement now provides a solid basis upon which to move forward into a new future of politics on this island.
"Like the men and women of 1916 we reject sectarianism and bigotry and are committed to a process of national reconciliation and as part of this we have entered along term dialogue with unionism on this island".
He said that there was still a lot of work to be done and he called for the release of all republican prisoners and an end to the ongoing discrimination against Republican ex-prisoners. 
South Down
Chairperson of Down District Council, Councillor Willie Clarke MLA, has described the Easter Commemorations in South Down as, "very dignified affairs and a fitting way to honour Ireland's patriot dead."
"The parade in Newcastle was a wonderful spectacle and the large crowds of people who participated in the march and lined Main Street to watch the bands highlighted how uncontentious this event is. The Parades Commission made the correct decision in allowing the march to start at 3pm and it was great to have both the St Joseph's Pipe band and Naomh Padraig Flute band in attendance", he said.
Clarke also agreed with the decision to cancel the main parade in Castlewellan as a mark of respect for the families of Rory McAlinden and Claire Steele who both lost their lives in a tragic boating accident on Castlewellan Lake at the weekend.
DUBLIN
Dublin City
At the main Dublin City commemoration outside the GPO on Easter Sunday, Sinn Féin President Gerry Adams gave an enthusiastic speech to a large crowd.
Adams said he was glad the 26 County state had commemorated the Rising earlier that morning. Pointing out that Sinn Féin had never stopped commemorating it he said: "The build up to 2016 should not only be about commemorating 1916. Citizens want to see the Irish Government making real preparations for Irish unity. Sinn Féin's commitment is to ensure that this happens."
Pointing out that republicans were shaping shaping history once again Adams said:
"The speed of events since the meeting with Ian Paisley may have taken many by surprise. But the logic of the engagement and its outcome should not surprise republicans.
"We got to this point as a result of the peace strategy set out by the Sinn Féin leadership more than a decade ago. This time has seen a move from armed struggle to political negotiations and now political agreement between Sinn Féin and the DUP and the recent amicable meeting between Ian Paisley and the Taoiseach.
"As far as republicans are concerned it was always going to be down to the people of Ireland coming together to build our own future. Pearse himself spoke of the Orange men being no more loyal to the English crown than the rest of us.
"It was he argued a matter of clearing all other issues out of the way and then resolving our difficulties through business-like negotiations."
Adams said that just as republicans had a strategy to get political agreement, they also have a strategy for the next phase – a roadmap for Irish unity.
He said Sinn Féin is about building the Republic and that the unionist people had to be part of that.
"A genuine process of national reconciliation has to happen. Sinn Féin is ready to play our part. I believe that many within the unionist tradition are ready also. The Irish government will have a key role to play. The first step is for the Irish government to start thinking, acting and legislating with an eye to the needs and rights of every citizen on this island. The Irish nation does not stop at Dundalk. The government here must provide the opportunity for political representatives in the North to participate in the political institutions here in Dublin. And I believe that through time, unionist political parties will join with us."
He pointed out that last weekend the British Army began pulling the last of its troops out of South Armagh. "And that same week Ian Paisley and Martin McGuinness wrote together to the British Secretary of State Peter Hain asking him to vacate his office. Slán abhaile to Mr. Hain and his government's troops", he said.
A statement from republican prisoners in Portlaoise Jail was read at the Dublin commemoration. The prisoners  applauded the republican leadership, saluted its efforts and the current strategy to bring about a united Ireland and said the unity of the Movement was paramount.
Ballyfermot and Crumlin
Saturday morning saw republicans fall-in behind the two Dublin RFBs at the Sinn Féin offices on the Ballyfermot Road, and march down to the newly revamped local Markievicz Park. Here Aengus Ó Snodaigh TD gave the oration where he appealed to the crowd to play a full role in the forthcoming election and called upon the government to release all qualifying POWs immediately.
In Crumlin that afternoon, he reiterated those calls. That march started behind Crumlin's Children's Hospital, subject of a Sinn Féin campaign to retain its services and prevent its closure in part of the ill thought and damaging government health policy.
At Eamonn Ceannt Park Ó Snodaigh reminded people that the men and women of 1916 were ordinary people, with a determination, bundles of courage and a commitment to an ideal – a democratic, socialist republic. That ideal is still to be fulfilled, he said.
Dún Laoghaire
Some 300 people attended the Dún Laoghaire Easter Commemoration, which was addressed by Sinn Féin general election candidate Eoin Ó Broin, the party's director of European affairs.
He said: "Irish republicanism is today stronger than at any other time in recent history. We are building new political relationships across the Island of Ireland and increasingly defining the political contours of our society. But we are not yet strong enough to achieve our objectives.
"We must continue to build our party, to popularize our politics and to increase our political strength in our communities, workplaces and political institutions. All of this requires hard work, commitment and sacrifice.
"Easter is a time when in remembering the sacrifices of others we recommit ourselves to strengthen our own personal contribution to the republican struggle.
"We owe an enormous debt to the Volunteers of the Irish Republican Army. That debt can only be paid if we each play our own part in the completion of our struggle, for an Ireland united, free, and equal and at peace. Tiocfaidh ar lá."
GALWAY
Raymond McCartney, MLA, addressed the Galway city Easter Commemoration at Eyre Square.
Francie Brolly MLA addressed the commemoration at Pádraig Mac Piarais's cottage in Rosmuc.
At the graveside of Margaret Joyce, Sinn Féin Councillor Daniel Callinan, gave the oration.
At Clifden commemoration Francie Brolly MLA delivered the oration, incorporating his own moving piece of poetry written in 1966.
LIMERICK
On Easter Sunday almost 100 people attended the annual 1916 Commemoration organised by Limerick City Sinn Féin.  The march assembled outside the main gates of Mount St. Laurence Cemetery and proceeded to the Republican Plot, where Maurice Quinlivan chaired the ceremonies, the Sinn Féin candidate for Limerick East in the forthcoming general election.
Brendan Moloney laid a wreath on behalf of the Republican Movement in Limerick, the Proclamation was read by Eamon Clancy and the Easter Statement by Pádraig Malone.  The main speaker was Willie Clarke MLA recently re-elected from the Mournes area of South Down.
Following the main commemoration a wreath laying ceremony was held at the grave of Sean Glynn, an IRA volunteer who died in Arbour Hill Military Prison in September 1936.
LOUTH
Dundalk
The 91st Anniversary of the 1916 Easter Rising was commemorated in Dundalk with a number of events.
On Saturday, 7 April a wreath-laying ceremony took place at the memorials at Quay Street to brothers John and Patrick Watters, murdered by Black and Tans in 1921.  Local Sinn Féin Dundalk Town Councillor, Ian Dooley, chaired the ceremony.
In Knockbridge wreaths were also laid at the memorial to the members of IRA 4th Northern Division in Knockbridge Cemetery.  Louth County Councillor Pearse McGeough chaired the proceedings.
In Dundalk on Easter Sunday the large crowd assembled at the Market Square and led by the Dundalk Colour party and the Newry Flute Band made their way to the Republican Plot in Dowdallshill Cemetery.
Sinn Féin Louth TD Arthur Morgan chaired the proceedings and in his opening remarks remembered Sinn Féin members who had died during the past year.
Andrea Connolly read the Proclamation and a member of Ógra Shinn Féin read an Easter message.
The main speaker was Alex Maskey MLA, Sinn Féin spokesperson on Policing and Justice.
In his address Maskey spoke about the debate, which had taken place over the past months around the country on the way forward on policing and the momentous decision taken by the Special Sinn Féin Árd Fheis.
"Sinn Féin is about bringing change and about delivering equality.  We are facing into exciting times for politics on this island and I believe we are ideally placed to meet the many challenges, which will undoubtedly lie ahead.  Sinn Féin is an all Ireland party.  Our goal is a United Ireland.  We place equal emphasis and importance on all parts of this island", Maskey said.
He encouraged everyone to get involved in the 26 County general election campaign and to have Arthur Morgan re-elected as Sinn Féin TD for Louth.
Drogheda
A large crowd at the Republican Monument on Marsh Road heard Arthur Morgan TD pay a tribute to the late republican Kathleen McShane who passed away recently.
Wreaths were laid on behalf of Óglaigh Na hÉireann, Sinn Féin and Ógra Shinn Féin. As Hughie McShane lowered the national flag the Last Post was sounded by the Lourdes brass band.
Ruth Churchill from Sinn Féin in Clogherhead read out the 1916 Proclamation.
Recently elected MLA Alex Maskey gave the keynote speech. 
OFFALY
Paul Butler MLA and Councillor Brian Stanley, Sinn Féin candidate for Laois/Offaly addressed Sinn Féin's Easter Commemoration in Tullamore, County Offaly.
Brian Stanley said that in recent months the party had made significant advances towards a united Ireland of equals.
"The DUP have had to accept the reality that there can be no return to the old Stormont and that power sharing with Sinn Féin is the only show in town. The party that was going to "smash Sinn Féin" has now to work with us. They have to accept that the equality agenda has to be implemented in full. And very importantly for the future of Ireland, they have to work with and be part of developing the all-Ireland institutions that are a central part of the Good Friday Agreement.
SLIGO
Sligo Town
The main Sligo Easter Commemoration took place on Easter Sunday outside the City Hall. In glorious sunshine a crowd of over 300 marched behind a well-drilled six-person colour party to the impressive Republican Plot in the City Cemetery.
As the procession entered the cemetery grounds the colour party paused in tribute by the graveside of Vol. Joe MacManus before proceeding to the main plot containing the remains of Sligo's Noble Six.
The West Tyrone MLA Barry McElduff delivered the main oration. During the course of a wide ranging, witty and thought provoking speech McElduff referred to recent comments of Fianna Fáil Minister Willie O'Dea to view current events "through the prism of a 21st Century free and independent Ireland". Lambasting O'Dea's partitionist mentality, McElduff said that "as Irish republicans, our Republic doesn't stop at the border" and that "Ireland is not yet free or independent".
McElduff than addressed the issue of the forthcoming Southern General Election. "This election is one of the most important that Sinn Féin has faced into. Here in Sligo, local activists are to be commended for leading the campaign to fight for better health services here in the North West and the provision of better educational standards for our young people. Through your local councillors' and activists' work on the ground you have placed our republican agenda firmly on the local political map. And now this work will come to fruition when Seán Mac Manus is elected a TD for this constituency. It is imperative for every republican in Sligo and North Leitrim to work to ensure that we mark the 50th anniversary of John Joe McGirl's election in 1957 by sending Sean to Leinster House'.
Ballisodare
On Easter Sunday morning there was a wreath laying ceremony by the graveside of Vol. Martin Savage in Ballisodare. A veteran of 1916, Savage lost his life in December 1919 during an attack on the then British Direct Ruler, Lord French. The event was well attended and included large numbers of the Savage family members.
TIPPERARY
Sinn Féin candidate for Tipperary North, Councillor Séamus Morris, chaired the 1916 Commemoration in Nenagh's Banba Square on Easter Sunday.
The main address was given by An Phoblacht editor Seán Mac Brádaigh who paid tribute to Tipperary's proud role in Ireland's freedom struggle, not just during the Tan War but in every phase since. He drew attention to the example of Tipperary republican Dan Gleeson whose daughter Áine was present, and said Dan's involvement in the republican struggle spanned the decades from the 1920s right up into the 1990s.
Mac Brádaigh paid a special tribute to republican activists of the 1950s including those in County Tipperary who provided support to the IRA's Border Campaign.
He said that in "the most recent, most protracted and most heroic of all IRA campaigns – that which was formally ended on July 2005, Tipperary played its part". He said the County had given of some of its brightest, bravest and best people to the struggle. Young men and women who took the fight directly to the British.
"I think here of men like Patrick Hackett and women like Ella O'Dwyer and many others – Volunteers who went to  the heart of enemy territory and raised the flag of Irish freedom in England itself. People who paid very heavily for their involvement, who spent many years in English jails for their efforts for Irish freedom.
He called for the release of all republican prisoners and for an end to discrimination against republican ex-prisoners.
Mac Brádaigh said the business of 1916 was unfinished business and that republicans must use the time ahead to popularise the ideals of the Easter Rising, adding that Ireland was closer than ever to ending British rule.
Following the momentous political events of recent weeks, he said the front line of the struggle would move South and he called on all republicans in North Tipperary to play their part in the campaign to send Seamus Morris to Leinster House to join an even bigger team of newly elected Sinn Féin TDs.
TYRONE
Carrickmore
The 91st Anniversary of the 1916 Easter Rising was marked in Tyrone with thousands attending the annual commemoration in Carrickmore on Easter Sunday.
Bunting, murals and national flags adorned the parade route and many homes flew the national flag.
The commemoration was the focal point of a weekend, which had seen no fewer than 30 local graveside commemorations and wreath laying ceremonies.
A republican colour party led the parade and was greeted with rapturous applause. The Martin Hurson memorial flute band followed them, the Kevin lynch memorial from Dungiven and Pomeroy accordion band. Various banners and pictures the Tyrone rolls of honour were present in the parade.
Following the march through Carrickmore the parade concluded at the Garden of Remembrance in Carrickmore. Brian Crawley, chairperson of the Tyrone National Grave chaired proceedings.
Various wreaths were then laid at the Garden of Remembrance, these included GHQ staff Óglaigh na hÉireann, Tyrone Brigade Óglaigh na hÉireann, the old IRA, Sinn Féin, Ógra Shinn Féin, Tyrone National Graves association Sinn Féin  aswell as a wreath in memory of the H-Block martyrs which was laid by Brendan Hurson, brother of Tyrone Hunger Striker, Martin Hurson.
A female member of the colour party then stepped forward and read aloud the 1916 proclamation, which was followed by the Tyrone roll of honour and the lowering of the national flag to half mast and a minutes silence for those who died for Irish Freedom. Statements were then read on behalf of the leadership of Óglaigh na hÉireann and a statement was also read on behalf of Ógra Shinn Féin.
Newly elected MLA Martina Anderson was the main speaker. She reflected the sacrifice made by Tyrone republicans, focusing in particular on the most recent phase of the struggle for Irish freedom. She also asserted that Sinn Féin was willing and ready to represent everyone when the power sharing government is established on the 8 May.
Anderson said Sinn Féin would continue to forward the cause of a united Ireland and predicted that her generation would live to see the ideals of the 1916 leaders become a reality.
The proceedings concluded with a rendition of Amhrán na bhFiann, sung by Caoimhe Curran.
Speaking following the parade, Brian Crawley, chairperson of the Tyrone National Graves said he was 'delighted' that the parade had been 'hugely successful' and commended all those who took part in the various commemorations and wreath laying ceremonies held throughout the county.
There were large turnouts at local commemorations at Aghyaran and Cranagh in memory of republicans from the area who had lost their lives in the cause of Irish Freedom.
Strabane
Cllr. Jarlath McNulty addressed the Strabane commemoration. During the course of his address he said:
"In common with those who went out and raised the flag of liberty in Easter week 1916 those listed on the West Tyrone Roll of Honour and Roll of Remembrance had the same rebel hearts.
"Not only had they a clear understanding of the malign nature of British Rule in Ireland and of the all the injustices that flow from it but they had a clear vision of the Ireland that they wanted to create – An Ireland free from alien occupation and interference; a 32 county socialist republic where true equality for everyone regardless of colour class, creed or gender would become a reality; true reconciliation between orange and green
"Like the men and woman of 1916, the republican dead of West Tyrone who we have come here to remember today also had no illusion about the overwhelming might of the forces that were aligned against them but the rebel heart is an indignant heart and one which is willing to sacrifice everything for a higher ideal.
"Most of us gathered here today had the privilege to have known at least some, if not many, of those on the West Tyrone Roll of Honour and Roll of Remembrance.  And we all have our own special memories to cherish.
"The families of our republican dead have not only borne the loss of one they loved so dear, and the loss of one who still had so much to give, but often they have also had to contend with their loved one been demonised in death in what has been a clear attempt by the establishment to manufacture a hierarchy of victims.
"However, the esteem with which our republican dead are held, not only in communities like this, but throughout the length and breadth of Ireland and indeed by freedom loving peoples around the world, just shows how much the establishment agenda has failed.
"This is why commemorations like this have always been so important and why they must continue to be so, in this, and in future generations.
Waterford
Saturday afternoon saw a parade through Waterford city to John Roberts Square, stopping to lay a wreath at the memorial on the Quay. Cllr Joe Kelly chaired the gathering, and election candidate Cllr David Cullinane addressed the crowd before Bairbre de Brún gave the oration. The parade then moved on to Green Street where a wreath was laid.
A parade of about 80 people paraded to the church in Portlaw on Sunday morning. Jackie Whelan chaired the commemoration, and David Cullinane gave the oration, before the assembly marched back to the Square.
On Sunday afternoon over 300 people gathered to walk to Knockboy Graveyard in Ballinam