12 April 2007 Edition
Mála Poist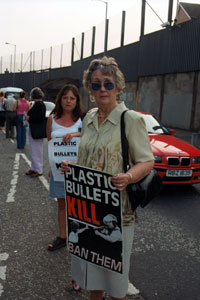 'An Phoblacht' welcomes readers' letters. Letters in Irish or English should be kept short (no more than 200 words) and typed or handwritten clearly, double-spaced and on one side of the paper only. Name and address should be supplied for verification, but these will not be published if we are so requested.
Cuireann 'An Phoblacht' fáilte roimh litreacha ónár léitheoirí. Scríobh i nGaeilge nó i mBéarla. Is fearr litreacha gearra (200 focal ar a méid) clóscríofa nó lámhscríofa go soiléir ar thaobh amháin den leathanach. Cuir ainm agus seoladh leis ach ní fhoilseoimid iad seo más é do thoil.
Emma Groves — she lost her sight but not her vision
A chara,
Please allow me to say a few words about Emma Groves on behalf of the Troops Out Movement. She was blinded by a rubber bullet in 1971 which was shot through her own living room window by a British soldier. She never got justice, no one was ever charged with the shooting and the British army knows who did it.
She was a great campaigner against plastic bullets and travelled the world calling for people to put pressure on the British government to ban these lethal weapons. She came over to the English Midlands in 1985 with her fellow campaigner and friend Brenda Downes, whose husband, John, had been killed by a plastic bullet. Their visit coincided with the West Midlands Police holding community consultative meetings on whether or not to hold plastic bullets. Emma and Brenda had written to the Chief Constable, Geoffrey Dear, asking for a meeting with him. He had replied that he could not meet them because he would be on holiday. However, when they appeared on live television, who should be sitting beside them but the said chief constable. He tried to convince the audience that plastic bullets were harmless, last resort weapons only fired under very strict regulations. When Brenda threw a plastic into the middle of the studio saying "This is the harmless weapon that made me a widow at twenty" and when Emma removed her dark glasses revealing her injury and told her story, the only reply that Mr. Dear could come up with was "You must remember that these people are here as the guests of the Troops Out Movement"!!
Emma also spoke at a meeting at which the Deputy Chief constable spoke in the same vein as his chief "only used under very strict regulations etc etc", Emma again removed her dark glasses and said, "Listen til I tell you son – What regulations was the soldiers following when he shot me through my living room window. The meeting unanimously voted that the police should not be allowed plastic bullets. She was over in England on many occasions making a tremendous impact on all who met her.
This magnificent woman, whose humanity and strength shone through everything she did, was also great craic and a wonderful friend.
We extend our deepest condolences to all her family and friends – to all who loved her.
Is mise,
Mary Pearson – Secretary,
Troops Out Movement - Campaigning for British Withdrawal from Ireland.
Rosary at Commemorations
A chara,
This Easter weekend I unusually found myself in my hometown, and attending the local Easter Rising commemoration. It was a glorious day and at its core a well organised and run commemoration.One part of the event did irk me somewhat though. I do not name the area as I am also pretty sure this is not completely unique.
The part which I refer to was the reading of a decade of the rosary. I completely respect the right of people to practice their religion but republicanism is a secular doctrine as we are a secular party. I urge organisers of events up and down the country commemorating our dead to keep this spirit of inclusiveness and secularism in mind.
What happened to uniting Protestant, Catholic and dissenter? This is not the inclusive society we should be promoting through our party.
I felt not only uncomfortable but also angered at this linking of our patriot dead to a specific religion when it says itself in the Proclamation of the Republic they died for that, "religious and civil liberties" are guaranteed. If we are to set an example of the republic we wish to build we must embrace all spiritual viewpoints and adhere to none.
Is mise,
Secular Republican.
'Economic treason' of gas giveaway must be election issue
A chara,
The Government's blank chequebook deal with multinationals must be firmly placed on the political agenda in the up-coming general election. Dick Spring's assertion that the fiscal terms granted to oil and gas multinationals by the corrupt politician Ray Burke amounted to "an act of economic treason" suggests that Dáil corruption hasn't stagnated. The lucrative slashing of the oil industry corporation tax from 50% to 25% by Bertie has proven irresistible for Shell. Their exploitation of our natural resources will have rich rewards. 
We urgently require an 'independent review' into these flawed licensing terms to reveal the truth behind this fiasco. A review would surely be more appropriate and cost effective, to the woolly deployment of McDowell's parachute regiment at an approximate cost of €185,000 per week. Naïvely, I used to think that the Gardaí were there to "defend and uphold the rights of citizens". Strange how a bus teeming with Gardai on the margins of Shell's money spinning enterprise contrasts with the lack of Gardai in crime blackspots.
Shell's profit should not be prioritised over our communities/environment. Their recently declared €19.5 billion profit coupled with the arrogance that comes with it/government/ courts; all dictate they need not even bother develop a sea based gas refinery. The old tactics are the best!   
The fact that Norway owns a 25% stake in 'Corrib gas', with a claim to 34% of gas revenue is shameful. The opposition leader Enda Kenny's lack of interest in this grave issue to underpin his opinion of government incompetence, speaks volumes. Norway's first class free health service will benefit by billions from our natural resources. Is there a politician in Fianna Fail/Fine Gael or the PD's, capable of justifying this farce?
See www.corribsos.com / www.indymedia.ie/mayo to keep informed.      
Is mise,
Adrian Nally,
Castlebar Friends of 'Shell to Sea'